THE 'She is King' a musical celebration of Zulu culture premiered in October 2017 in mzansi!
Now the official soundtra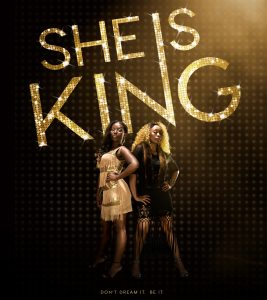 ck from the album 'She is King' has been released and peppered with songs from stars Brenda Fassie, Lucky Dube, Vusi Khumalo, Simpiwe Dana, PJ Powers, Joseph Shabalala, and new tracks by Gugu Zulu and Mandisa Nduna.
The film opens in cinemas on 1 December, just in time for the holiday season.
'She is King', stars Khabonina Qubeka, Khanyi Mbau, Mandisa Nduna, Aubrey Poo, and the fresh-faced Gugu Zulu, to name a few.
Directed by Gersh Kgamedi, it presents the City of Gold as the African Broadway and tells the story of Khanyisile (Gugu Zulu), a talented young singer, dancer and actor who wants to be a star.
Khanyisile travels from her home in Nongoma, KwaZulu-Natal, to audition for a musical to be staged at the Joburg Theatre, based on the life of powerful Zulu Queen Mkabayi ka Jama – Shaka's aunt.
She played a major role in Zulu history, deposing various kings and helping them ascend to the throne at a time of great historical importance to the Zulu nation.
The first single, a revamped version of Brenda Fassie's hit 'Higher and Higher', sung by Gugu Zulu and Mandisa Nduna, dropped early in November.
Talented singer, songwriter and actress Gugu Zulu made it to the Top 16 of Idols SA this year and is also known for her role as Nandi in eTVs 'The Alliance'.
Rapper Mandisa Nduna is an award-winning stage, film and television actress who rose to fame in the film 'Between Friends', and is also known to television audiences as Thuli in eTVs 'Hustle'.
She and partner Thishiwe Ziqubu were recently crowned Cutest Couple of the Year at the annual Feather Awards.
The second single from the album 'She's a King' – also by Nduna and Zulu, is available for download online.
Other notable tracks include Simphiwe Dana's 'Iliwa Lam', Gugu Zulu's 'Scamtho' (composed by Vusi Khumalo), and 'Too Irie' by Mo'faya feat. Jahzo, originally composed by Lucky Dube and remixed by K Muambadzi. The film also features some great tracks by DJ Shimza ('Party ka Shimza'), flamboyant singer Moonchild ('Mr Chow') and hip-hop star Ifani.
"We are excited about the soundtrack as it brings together a wonderfully diverse range of local talent, both old and new," says Gersh. "With a strong focus on talented young women, the soundtrack is a fresh take on some of the best South African music has to offer."
'Higher and Higher' is available online. 'She's a King' can be downloaded here: http://smarturl.it/NdunaSheAking.
The soundtrack will be released on November 29 by Gallo.