Soweto is next.
The annual Color Run has been scheduled for April 17.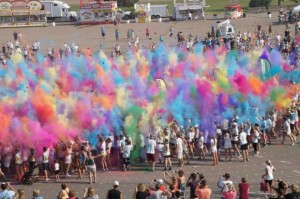 Themed 'Heita Soweto – take a short left with The Color Run', is about health, happiness (aka fun), individuality, and giving back to the community.
Soweto is an ideal and historical township in the world that boasts two Noble Peace Awards recipients, Arch Desmond Tutu and the late former Statesman Dr Nelson Rolihlahla Mandela, who originate from the same street: Vilakazi Street at Orlando.
So, it made business/ political decision for the organisers to afford Soweto such an opportunity.
It takes off at UJ Soweto Campus – Chris Hani Road Orlando, Soweto from 09h00 for 10h00, sharp.
The headline sponsor of The Color Run, Capitec Bank, has made it possible for R10 to be donated to education for each ticket sold. Following the advice from Adopt-A-School, we will identify a school in need in the area, and address its most pressing requirements.
Additionally, every Color Runner will receive a R200 voucher from Takealot.com for the purchase of The Color Run powder and merchandise, as well as a R200 voucher from Superbalist to be redeemed against a minimum spend of R250.
Tickets are available online from The Color Run website <http://thecolorrun.co.za/> (http://thecolorrun.co.za) and Facebook
<https://www.facebook.com/TheColorRunSouthAfrica> (www.facebook.com/TheColorRunSouthAfrica).
Individual ticket prices are R250 and R225 for groups of 4 or more. Manual entry points are listed on website.
'Hey Squeezah– get your tutu starched'