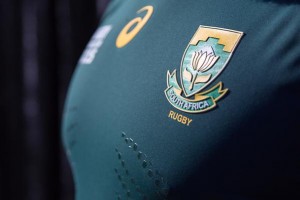 The reason for this, is because the Springbok emblem has made way for the IRB logo, and has shifted to the right sleeve. With the history surrounding the Springbok emblem and name, it is not surprising that a few eyebrows were raised, with heated arguments and debate in the past surrounding the emblem and name of the national team.
However, reports have indicated that the decision was in fact not a political decision, but rather it was out of necessity because of IRB World Cup stipulations.
According to the Rugby World Cup rules, the emblem of the Springboks must the on the left sleeve and not in its normal place.
The Bok emblem has been replaced in its normal place by the Rugby World Cup emblem. The World Cup stipulations revolve around the number of emblems on the front of the jersey, and in this case the sponsor, World Cup and team logo takes preference.
The Protea is the team emblem for all national sports.
Keep an eye out for the wallaby emblem on the sleeve of the Wallabies.
Besides the emotional attachment to the Springbok name and logo, the rugby fraternity and stakeholders will also be acutely aware of the financial value of the Springbok logo.