"I LOVE my car to such an extend, I do not share it with my better-half," forms a series of letters our email box has been experiencing lately from happy drivers in mzansi.
This follows the test drive we did on the new Suzuki Swift recently. Its petite and convenient and with cost of living becoming expensive every hour, this comes-in handy be it first time buyer or student.
The compact budget hatchback is powered by a 1.2-litre naturally aspirated (non-turbocharged) 4-cylinder petrol engine mated with manual gearbox.
It features dual-tone paint finish; a chrome line in the grille and the some spec upgrades across the line-up. The base derivative now features full wheel covers and rear parking sensors, while the GL also gains parking sensors and the GLX gets a reverse-view camera and new 15-inch alloy wheels.
The most notable update, however, is the introduction of electronic stability control throughout the range.
The Swift's braking system is equipped with sensors that can detect when one or more tyres lose grip (because of wheelspin or skidding) – it automatically applies the vehicle's brakes to help the driver maintain control. Does it work? Well, according to the US National Highway Traffic Safety Administration, a third of fatal accidents could be prevented by an ESP system.
Fitted with 1.2-litre powerplant and combined with frugal average fuel consumption, its outputs of 61 kW and 112 Nm may not seem all that impressive, a concern, but considering the Swift's trim kerb weight of just 875 kg, its powertrain feels eager in every gear; the little hatchback is eminently nippy. The engine may be old-school naturally-aspirated in an era of downsized, turbocharged engines, but the power delivery is linear and the car never feels short of breath, as we did not take it for a long haul, as we would normally do with any new car for a review.
The 5-speed manual gearbox is another element that facilitates the Swift's drivability, because its gearing is short, which does create the sensation of quick acceleration, but then the car's rev counter will hover around 3 000 rpm at the national speed limit, which results in a slightly buzzy sound in the cabin. Brrr.
It claimed figure of 4.9 L/100 km from Joburg to Krugersdorp and returned 5.7 L/100 km.
Swift has a 37-litre fuel tank, which is a smaller than its rivals' (those models' tanks are bigger than 40 litres).
The Japanese hatchback is 10 mm shorter, but 40 mm wider, than its predecessor. Both tracks have been widened; the front by 40 mm and the rear by 35 mm. Consequently, the car offers better road-holding, not that many drivers had issues with the way the old Swift negotiated corners.
The steering setup is light and quick, but there's just enough heft to the 'wheel to inspire confidence when you're cruising on the open road. That light steering, plus the rear parking sensors and reverse-view camera, make it palpably easy to parallel park the Suzuki.
Not so spacious and who would mind the interior when customers ain't complaining?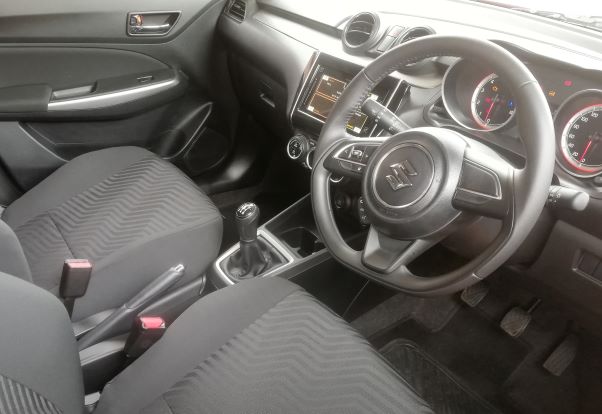 As for safety features, the updated Suzuki Swift comes with electronic stability control (ESP), front and passenger airbags, as well as anti-lock brakes (ABS) with emergency brake assistance (BA) and electronic brake-force distribution (EBD).
'This iconic hatchback garnered awards and accolades for each generation (including Budget Car of the Year in 2019) and remains, consistently, a cult-classic in its class.
It's no wonder that the Swift is a South African favourite.'
Oh yes, we still continue to receive more tons of emails!
It retails for R180 000
Verdict
Performance 1-10 (5)
Petrol 1-10 (5)
Image SLM (The iconic hatchback Suzuki Swift moves swiftly along).