This also prompted one guest asking "are these our athletes" as they packed away their sweat competing gears for well-tailored suits and swanky dresses.
Aha, so were the scent of colognes that filled the banquet.
Team SA medallists were honoured last night by the minister of sport and recreation Nathi Mthethwa and SASCOC at the fitting occasion held at Birchwood Hotel.
This follows their impressive performances at the Tokyo Olympics and Paralympics, respectively.
From man of the moment Paralympics and double medallist Ntando Mahlangu to Swimmer Tatjana Schoenmaker, whistles and ululations were the order of the evening, bar vuvuzela!
Surfer Bianca Buitendag (shocked us all when she said she'll be retiring), Sheryl James, Anruné Meyer, Pieter du Preez and Louzanne Coetzee and her two guides, took praises from guests.
They walked away with cash prizes made possible by National Lotteries Commission and other sponsors.
As for what transpired recently on rewarding of athletes, the minister said it will be an issue of the past going forward.
"We're now engaging with our partners to prepare for Paris Olympics and this would help us to avoid the unfortunate scenario of rewarding our athletes. From now on this is in the past, it will never happen again," said Mthethwa.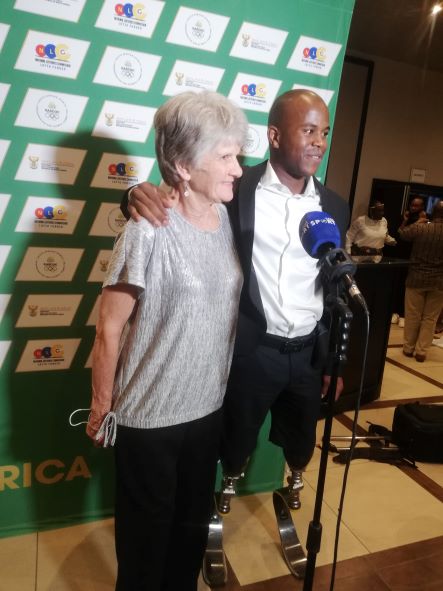 Mahlangu who is from Mpumalanga, was supported by his MEC of sport, said his mission is to teach others, be it young or old that 'its only impossible until its done'.
"Look at my situation now, I had to take the bull by its horns and do the impossible. Today, I'm a world champ, recognised by all. Now the question is -what if I did not take such a risk?" he asked shyly.
The emotional Schoenmaker said, they only do this for the love of sport and development, not for money.
Musician Shekhinah gave a resounding performance fitting for world stars.
Image Mdu MPHAHLELE ( Olympians and Paralympians sharing the stage with the minister of sport Nathi Mthethwa at the gala dinner ceremony held last night).