Will someone with 'clean bill of a healthy mind' please tell what's going on with our key sporting teams?
First and foremost, our soccer national Bafana Bafana has, once again, miserably bowed out of the 2017 A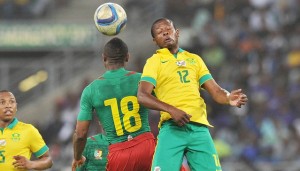 fcon Cup to be held in Gabon.
Miserably because, its for the umpteenth time we fail to qualify for the prestigious Continental tourney in years'.
With our backs behind the wall, what will ever change the misery, pain and humiliation our national team brings to the country? Me, thinks nothing will, finish & klaar!
After drawing with the Indomitable Lions (Cameroon) on the two -legged affair, last night was supposed to have been a must win for Bafana, alas not.
I'm up to here -pointing fingers at the coach and the players, thus begging a question: would someone please tell who to blame, asseblief tog?
"We're finished since we failed to qualify for Gabon," said our disgruntled coach Ephraim Shakes Mashaba, during post interviews.
The final game for our once beloved Bafana Bafana, is up against the side that brought shame to us and yes, the unknowns on paper but on the field it's a contrary to that Mauratania.
Whether we win, draw or lose that game it matters not. It's over now.  'We're finished' as Mashaba famously opined and the once tired cliché "back to the drawing board" will surface as the team (un)prepares for the 2018 Russia World Cup. Lo and behold…
Secondly and disappointingly so, our Proteas landed last night from India for the T20 World Cup.
We expected a lot from these bunch of boys (as opposed to Bafana) but that was not to be.
The South African trio of AB de Villiers, Hashim Amla and Dale Steyn exited the World Twenty20 stage on Monday, possibly never to return again, and skipper Faf du Plessis felt a bit more discipline from the bowlers could have prolonged their stay.
The Proteas beat Sri Lanka in Monday's dead rubber to conclude their campaign after defeat against West Indies and England had scuppered their semi-final prospects.
England chased down a 230-run target against South Africa in a high-scoring thriller in which the Proteas conceded 26 extra runs compared to four by their opponents.
The likes of Steyn, Chris Morris and Imran Tahir sent down 20 wides at Mumbai's Wankhede Stadium.
Twenty20 is sometimes a gamble. Sometimes a Chris Gayle rocks up and he wins the game for you.
"We were poor with our extras," du Plessis, who had earlier termed the tournament as a 'nightmare', said after the eight-wicket win against Sri Lanka.
"Every game, we had more wides or no-balls than opposition. That's always basic and controllable.
"Your job is to try and get the ball inside the line and if you do it less than the opposition, it generally gets five or 10 runs that you don't have to score with the bat.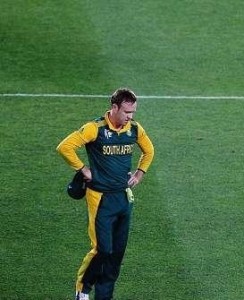 "That's possibly the key area for me in the first two games when we lost. That was probably the key."
A tournament like this leaves little margin for error and South Africa were guilty of not capitalising on chances, he said.
"We played good cricket leading up to the tournament… but a World Cup is a do-or-die tournament and if you make mistakes, it's not like a series where you come back into the series.
"We made one or two mistakes against England and they punished us for it. Against West Indies, we made one or two mistakes as well."
De Villiers, Amla and Steyn are all 32 and with World Twenty20 shifting to a four-year cycle, chances of them playing the tournament look slim.
"The sad thing is that it's now four years to the next World Cup — it's not just two," du Plessis said.
"A few players here won't be there then. That's going to be the challenge now for the squad: to try and rest some of the senior players, to see if they want to go to the next World Cup. With that you can breed some young players."
After a Holy-weekend one would have expected an astounding performance from both sides. Eish…
Additional reporting by Reuters.