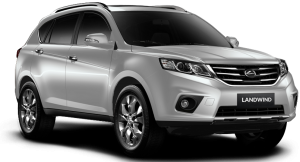 This takes me to the latest Landwind SUV- ably manufactured by Jiangling Motors Co., Ltd. (JMC), a major key player in the Chinese automotive industry.
Ably, because it's in position to compete with the likes of Nissan Juke and Renault Duster or Evoque (pun intended), as we took it for test drive recently. Yes, its raining SUVs in mzansi, folks.
Neatly styled, it comes with long nose, angled headlamps and a chrome-look grille reminiscent of competitor Subaru XV -and a huge boot enough to carry an Elephant-on the exterior.
Inside (yes the Chinese are not dumb after-all) features plenty of standard equipment with a full equipped audio system including USB connectivity, air-con, dual air-bags, ABS + EBD braking, anti-theft security system, park distance control and child safety rear door locks.
The enormous leg room is worth mentioning as well.
The six speed SUV comes powered with water-cooled and turbocharged engine with 250 N.m of torque and max power of 140 kW and under the bonnet lies a four cylinder. This unit pulls strongly and torque kicks in pretty early. It makes overtaking quite easy and picking up speed a breeze.
Landwind has a fuel consumption of 8,5 litres/100 km. Although some colleagues complaint bitterly about petrol-since that's what it uses- we found out if driven without accelerating it could take you the whole week without refueling, provided you can negotiate your ways in the busy and hustling Joburg.
It is available in Tornado White (as we experienced), Lightning Silver, Desert Brown, Sunset Red, and Sandstorm Orange colours.
Yes, try it off road and give us your verdict, rather!
But the only snag: it cuts off when the least expected, especially when either reversing or at robots. This is what the owners have to attend to.
Despite all bad superlatives about the Landwind SUV, it still had the citizens enquiring about its value, parts availability and performance, etc…
This goes on to show the SUV market is still open for competition, stru!
It retails for R249 880 with 3 year/100 000km warranty and 5 year/100 000km service plan.
As the tag says: 'turn your world around with Landwind'- let's see how far can you?
Verdict:
1-10 (Performance) 4
1-10 (Petrol) 6
Additional reporting: JACOB MAWELA