START OFF 2018 with a Bang-Bang and Ice Cold Jägermeister Shots...
At the coalface is Gwara-Gwara champ (DJ Bongz) and Stage champ (Zakes Bantwini), who will entertain fans and audience alike at what is termed the Tarabha Dance Off Championships, scheduled for African Beer Emporium, 367 Helen Joseph, P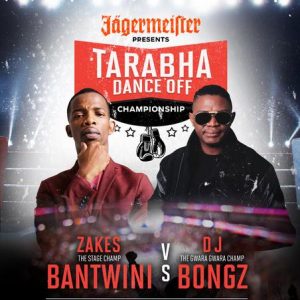 retoria, on Friday 26 2018.
It enters its second edition.
Apparently, both Durbanites caused a social media frenzy at the end of 2017, and the public joined in on the bandwagon feud in hope for a live dance off. So, there it is folks!
According to the organisers, "this left us no choice but to finally lockdown a date for the much anticipated battle".
Tarabha means giving someone a hiding they will never forget and the question is, who will get the whip on that…
"Challenge accepted! Expect a night filled with surprises and good music only of course!" commented Zakes.
This prompted the former Mabala Noise label records executive DJ Bongz to boastingly quip:" I am very excited that my brother in music, Zakes, and I will finally settle this debate once and for all. I'm the king of dance and it's high time we settle this debate, in love.
I will finish him. I am not one to battle with when it comes to dance :). See you all there."
Somizi "So Mgigi" Mhlongo and Metro FM's morning show co-host will referee this much anticipated match (or in this matter an arbitrator in the form of deputy chief Justice Dikgang Moseneke).
Other artists will be on stage on the evening.
Ticket price R60 per person pre-sale, R80 at the door.
Venue: African Beer Emporium, 367 Helen Joseph, Pretoria.
Doors open: 7pm