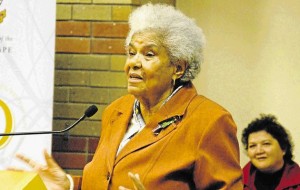 The ANCYL in the Northern Cape has extended message of condolences to the family of fallen gallant Mme Ruth Segomotsi Ruta Mompati.
She succumbed to death due to long illness.
In its statement the Youth League says: " Mama Ruta, an ANC Stalwart was an epitome of selflessness in the fight for a creation of a united, non-racial, non-sexist, democratic and prosperous society. Her tireless efforts and commitment to the struggle for liberation within a framework of a collective earned her the highest order that the ANC as a liberation movement can award to those who have made an outstanding contribution and sacrifice to the liberation struggle. The ANCYL is honoured to have had a Separakwe within the ranks of the ANC, the future of the ANC, the young people of this country will continue to emulate the humility and selflessness that Mama Ruti portrayed effortlessly," read the statement.
Ruta's commitment to the liberation struggle dates as far back as her involvement in the Anti-Pass in 9 March 1956. Mam Ruta left the country two years after the formation of uMkhonto Wesizwe , a Military Wing of the ANC to undertake military training in the Soviet Union, making her one of the first women to become a freedom fighte (a real freedom fighter, not an imaginary one). She held a firm view that Education is the weapon to change our society and better the lives of our people. Many young people have benefited from her Ruth Mompati Scholarship Programme.
A Ruth Mompati Municipalilty was also named after her.
At the time of publishing, it was not confirmed if she would be granted an Official Funeral at Vryburg-North West Province, were she was born.
The Premier of NW Supra Mahumapelo and the Provincial Government, ANC nationally and other political organizations have sent message of condolences.