SOUTH AFRICAN's are so obsessed with comedy it ain't funny no more, stru!
This because the 8th annual South African Sa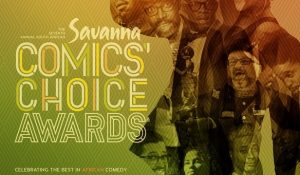 vanna Comic's Choice Awards are returning to the Lyric Theatre, Gold Reef City in September 8.
Chatz Connect, Vodacom's largest independent dealer channel is this years' Audience Choice Award category sponsor.
You can vote for your favourite among 248 comedians in the only award category open for public voting, before 4 July 2018. The five nominees selected by the public will be announced on 11 July 2018 and you will be able to vote once more for your pick from the finalists.
"At Chatz Connect, we understand that technology is often overwhelming and misunderstood and as such we are taking a humouristic angle in our brand messaging & communications.
Through comedic statements, we are able to demystify and simplify technology and connectivity for our customers, and as such partnering with Savanna Comics' Choice Awards seemed a natural fit for our brand and a great way to support upcoming SA talent," says Ulanova Visser, Marketing Director of Chatz Connect.
This year the theme is 'the Rhythm of Funny', so expect a fusion of music and comedy, with a special focus on the delivery of lines by rhythmic masters of stand-up.
Each winner will do a few minutes of comedy instead of an acceptance speech, and there will also be variety show sketches in the mix.
To vote, go to www.comicschoice.com, find your favourite comedian and his/her unique code.
Vote by texting their unique code to 45757.
You can vote up to 50 times and each SMS is charged at R1.50. Errors will be billed and free SMSs do not apply.
By voting, you could win tickets to the awards show on 8 September 2018, as well as other cool prizes from Chatz Connect.
There are only a few tickets on sale to the public – get yours here:  https://online.computicket.com/web/event/savanna_comics_choice_awards/1217308891/0/87054991