The 2015 Investec Soccer Challenge teams have booked themselves in the finals scheduled for September 12 at UJ Soweto Campus.
First piloted in 2008 by the company -as Corporate Social Invest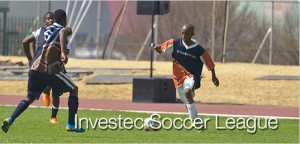 ment- the 20 high schools are divided into two groups of 10 teams per group and play 90 games in a round robin format, in the form of Premier Soccer League.
It kicked off in April and the curtain falls on the 12th for the final showdown.
Last years' winners Thutolore High, made life difficult for their rivals as they made a meal out of them.
With an increased purse to R90 000 for winners this year, life will be more difficult for Thutolore to defend the cup, as well.
The Soccer League initiative is not only about providing a platform to showcase soccer skills, but about building well rounded individuals who understand the significance of sport in developing great qualities such as discipline, focus, leadership, accountability, spirit of fair play, and many other life skills, yet not forgetting the ability to develop a sense of balance between physical and cognitive abilities.
The league is open to learners who are under the age of 21.
Bring along family and friends to support the youngsters.
Entrance is free. Mahala.