THE 21 YEAR old Kelvin van der Linde from Johannesburg is the South African Guild of Motoring Journalists' 2017 Motor Sportsman of the Year.
The announcement ceremony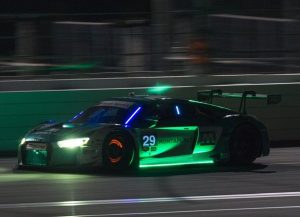 was held at Bedfordview, were motoring journos came in large numbers- in tow with partners.
Van der Linde was rewarded for his many achievements racing an Audi R8 with great success in Australia, America, and Europe, where he was part of the team that won the 24-hour race at Nürburgring.
Other South African motor sportsmen who were nominated were Matthew Scholtz, who won the American super stock 1000 championship and was inducted into the AMA (American Motorcyclists Association) Hall of Fame.
Sheridan Morais, former South African Superbike champion who won the Super Sport Class in the World Superbike Championship in Germany was also nominated for his two-wheeled achievements.
Kelvin's younger brother, Sheldon van der Linde (18) who finished 3rd overall in the ADAE championship in Germany piloting an Audi RS. Sheldon also won in the 24-hour Petit Le Mans race at Road Atlanta in the United States.
Wilhelm Baart who won his class at the Jaguar Simola Hill Climb in 2017 in his 1000hp Nissan GT-R, breaking the 40 second barrier for the event in a time of 39.892 seconds.
Ryan Hunt has raced Moto-X for nearly four decades, winning 12 South African titles.
He also competed with great success in the United Kingdom, Europe, and the United States. He has been awarded Springbok colours and has a Motorsport South Africa lifetime achievement award for representing our country in international events.
Richard Leeke who became the youngest driver to ever win a national rally. Richard won the Volkswagen Rally at only 21 years. He missed out on winning the overall championship by a small margin during the last event of 2017.
International tyre company Michelin also confirmed its sponsorship for the awards for another five years'.