THE CLOCK is tickin' fast as the second edition of the annual Absolut One Source Live festival gets closer.
So exciting that one of the creative revolutionaries pan-African Sho Ma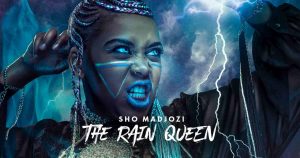 djozi, coined (The Rain Queen) has solicited the works of other potential producers to form part of this 'revolutionary movement' that has been scheduled for November 17 2018 at its residency -The Sheds at 1 Fox Street.
Tboy da Flame, Master KG and Makwa, rappers Big Hash, Dee Koala and Jovie Jovv, along with singers Makhadzi, Nelisiwe and Mthandeni ft Gcokama Elisha, will brush shoulders with SA's music genius and 'mkhulus' of the game Trompies- my all-time favourites, global star S'java, the Hip-Hop beatnik Shane Eagle, DJ PH, the party starter kokomaster and Nigerian D'Banj and Gqom Nation kings, Distruction Boyz.
"I chose my collaborators because they represent what I'm looking for, which is young African artists who are genuinely exciting and can be popular in Jozi and Thohoyandou and everywhere in-between. This is an exciting time to be African, and we are here to be part of that pan-African revolution," commented 'Huku' fame star on the new and refreshing line-up she opted for.
The Queen of Tsonga as Majozi is simply she's revered by loyal fans alike, will be live on the Discovery Stage -that will also include the Absolut Art Bar, the epicentre of the festival featuring curated art and performance space by day which will transform into the headline stage after dark; and the Street Zone where creativity goes back to its source with art installations, food trucks, a street performance stage, fashion pop-ups and street photographers.
One Source Live festival is chiefly led by other revolutionaries Khuli Chana, Trevor Stuurman and Osborne Macharia.
I bet my last penny- if last year's astounding performance by Bongo Maffin is anything to go by- expect Trompies to stomp it further, stru.
So thousands party revelers out-there, as indicated the clock is fast tickin' so get your tickets available from R200 at Webtickets (tel 086 111 0005).
Follow the conversation on social media @AbsolutSA #BeAbsolut.