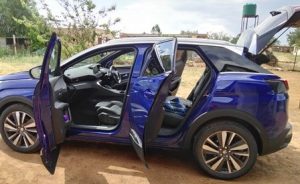 As we took it for a week long evaluation, some of my peers from the village mistaken it for Range Rover Evoque, who would blame the lot, when they're not that far apart when coming to the design.
Despite perceptions about French cars having expensive parts and unreliable- the 3008 seemed the opposite.
Well, as for parts me thinks PCSA are best suited to respond to that.
It boast more visual street cred and a striking car that made quite an impact on onlookers wherever I took it, no wonder it won the European Car of the Year title.
It looks less bloated than the average SUV and boasts some refreshingly imaginative styling in its front and rear lights. Those triple LED tail lights, by the way, are meant to resemble a lion's claw marks (to match the Lion in Peugeot's badge), and a nice touch is that this lion logo is projected onto the floor when you lock or unlock the car, in the evenings.
The 3008's interior has some fine interior decoration and passenger quarters radiate a premium feel, including some of the most artfully-stitched leather seats.
It has appealing interiors in the game (alluded my Nephew), eye-catching styling, and good versatility.
Yes, I might have battled with the some of the functions, especially radio, but later got used to it-thanks to my unapologetic Nephew- who pressed anything and everything available in the car.
The infotainment system employs a large, tablet-like 20.3cm touch screen which I'm happy to say is complemented by elegant piano-key toggle switches giving direct access to the main control functions.
It boasts heated and massaging front seats (more often than not my fingers kept pressing that heat button unintentionally), full LED lights with a cornering function at the front, automatic wipers, navigation and wireless smartphone charging.
The GT-Line also gets driv-assist features like lane departure warning, speed sign detection, and blind spot monitoring. Active cruise control came in handy as well.
The cabin has increased in size and comfortably takes four or five adult passengers. The boot's grown nearly 90 litres to offer a very sizeable 520 litres (and that's with a full-sized spare wheel).
The back seats fold flat to open up 1670 litres which swallows some pretty hefty appliances- as my Gran and elder sister brought along pots, flowers, spades, bags and anything they could lay their hands on. Going to a funeral ain't a child's play when the elders are coming along.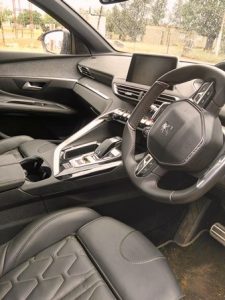 Backed by outputs of 121kW and 240Nm it isn't the most muscular 1.6 turbo around but there's sufficient power to ward off any suggestions of sluggishness, especially when you select the transmission's Sport mode, that was evident when we had to negotiate our way from stones and hills in Coligny-as we made our way to my Great-grand mother's graveside.
It's perky around town, cruises easily, and hushed in its operation. Quite friendly to the budget too, and our test car averaged an economical 8.1 litres per 100km.
The selling point i-Cockpit– sees the instrument panel positioned above a small steering wheel. I can't see any benefit to this design and at first this kart-sized, low-mounted steering wheel seems like it's almost sitting in your lap.
But the steering position starts feeling more natural after a couple of days, and so does its shape, with the wheel flattened on top and bottom like a racing car's.
Another snag is that the buttons for the cruise control are completely hidden behind the wheel and you have to learn to memorise them by touch. Ouch…
It retails for R414 900 incl. Vat

The 3008 Peugeot SUV 1.6 comes with a four-year/60 000km Service Plan and three-year/100 000km warranty includes roadside assistance, and there's an optional five-year/100 000km full maintenance plan.
Verdict:
Performance (1-10) 7
Petrol (1-10) 6