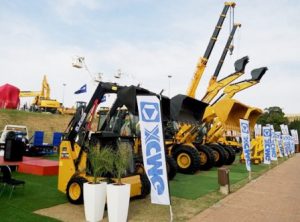 CHINA'S XCMG showcased its seven state-of-the-art construction machinery products at this year's 2018 BAUMA CONEXPO Africa, an exclusive trade show for constructions and building materials that runs until Friday 16 March at Nasrec.
As a No.1 supplier worldwide for the truck crane sector for years, XCMG exhibited truck cranes QY30K5-I, QY50KA, crawler excavators XE215C, XE335C, wheel loaders ZL50GN, LW300FN, and a 12 meter cherry picker.
Shen Yu, the African General Manager of XCMG Importand Export. Co. Ltd, said since the launch of the company in 2014, they have sold over 100 units years and look forward in investing in SA.
China's president Xi Jinping, also congratulated the company for its continued effort in uplifting communities and exploring investment in other African States such as Windhoek, Namibia, Maputo, Mozambique and Beira, Mozambique and SA, were they have opened 4 distribution outlets and 4 spare parts centers.
China and SA have a bilateral agreement that has seen both countries benefiting from each other.
The export amount of XCMG through XCMG SA has exceeded US$5,000,000.00 in 2017 and is expected to exceed US$10,000,000.00 in 2018. XCMG signed contracts about US$5,000,000.00 at the first day of Bauma 2018.
"We will keep on strengthening our professional after-sales team, constantly improve the response rate to any customer's incoming questions, and continue to optimize our spare parts inventory. To be responsible for all XCMG customer! To make every one of XCMG users satisfied!" said David Dai-  Managing Director XCMG SA.
This a billion industry that had all kinds of abnormal to mining machines lined up inside the Nasrec complex.
Meanwhile, Mahindra also exhibited and unveiled its brand new 250/320 kVA DGs powered by Mahindra mPower series engines.
Mahindra SA CEO Rajesh Gupta says the company is a "long- haul player in South Africa and we would be expanding our product portfolios in all verticals", he said.
He addressed a handful of guests and media at the unveiling ceremony.
Designed at its R&D hub at Mahindra Research Valley in Chennai, India and manufactured at its Chakan plant near Pune India, this new range of 9.3 Litre engine is the latest addition to Mahindra Powerol's mPOWER series and comes equipped with the technologically advanced CRD engines.
Although non-commital on how many generators will be made available in SA, he did point out though that it will be a sizeable number considering the outages that SA has experienced in the past.
Gupta, who is not related to the controversial family, says for Mahindra South Africa this is their home having invested in the country years' ago.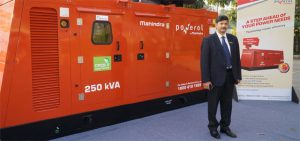 "We believe in the new President of the Republic of SA and its Government, and we promise to drive more investment in this direction because our heart beat is in Africa," he said in a tongue-cheek.
Mahindra that originates from India is a billion dollar company with various portfolios ranging from bakkies, tractors, TLB's and Generators, worldwide.
"We are also busy setting up an assembly plant for our bakkies which should be operational soon. Moving forward we would also assemble the Generators in South Africa this will benefit the consumers in terms of affordability with no compromise on the built quality.
On the Construction Equipment's we are at an advanced stage of discussions with a local partner and should be able to start retailing by mid this year," he indicated.