In locations or kasie we still continue to adore and worship the "gusheshe" brand.
But knowing the German's not resting on their laurels anytime soon- they've just pulled the wraps off its all new drop top BMW 4 Series convertible. From its grille to interior- I got my hands on this 'monster', yes, I'm being kind considering the superlatives that followed me at every corner.
The 2,850 mm wheelbase that is 41cm- is a head-turner and until this day, I'm one of my neighbours best buddies all of a sudden- bloody agent!
The BMW 420i petrol derivative adopts the classic rear-wheel drive configuration, since it is powered by a turbocharged petrol four-cylinder engine that's managed by an eight-speed automatic transmission.
Going at 135kW and 300Nm outputs- the steel roof can be opened or closed in about 18 seconds even on motion at a speed below 50km/h. Well, I did not try that in the event the eventualities do happen but temptation from passengers and whistlers was palpable.
Believe it or not, it has less buttons as opposed to other motoring brands, it features digital dash, quality materials and leather interior fabrics, and both driver and passenger seats can be adjusted electrically- considering my height debacle.
Because I did not rev it off as much as I would have loved, I only visited a filling station only once- to top up petrol, for 'anxiety' purposes. Its economical on fuel though.
The engine transmission has Comfort, Sport and Eco Pro modes, to suit your driving style, considering its' rated at 8.2 seconds to 100km/h and has a top speed of 236km/h.
The BWW 420i Convertible has all safety features you could think of six air-bags, a basic cruise control, active lights, top notch sound system, wireless charging, two types of USB ports and a basic reverse assist that's minus a rear-image feed, seat warmers, heater with climate control and yes, neck warmers.
Park distance control front and rear, cruise control, USB ports, multifunction steering wheel controls, auto on/off lights, rain sensor wipers, navigation, Bluetooth connectivity, climate control, leather upholstery, heated seats, remote central locking, electric roof operation, ABS, and stability control.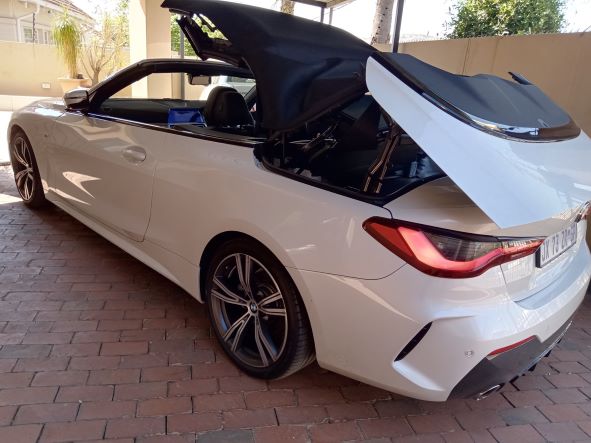 It can only accommodate four passengers (NOT MORE), while yielding 14l more space in the cargo hold.
The boot can only manage a few luggages not those hip n' happening large traveling bags –synonymous with Khanyi Mbau.
A definite must have on your own list…its faultless!
Warranty: Two years/unlimited km and Maintenance plan: Five years/100,000km
Price: R983 566
Verdict
Performance 1-10 (9)
Fuel 1-10 (8)
Images SLM (There you have it the latest BMW 420i convertible).