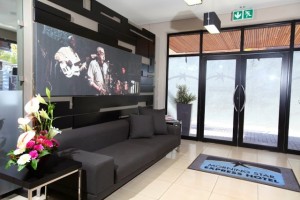 But MorningStar Express Hotel perched in Tshwane or Pretoria, is an ideal destination of choice be it for a night stay-over or longer period, the service is sublime… Take it from yours' truly!
What was then flats and constructed in 2010(yes during the historical FIFA World Cup on the African Soil for the first, if not last time) 20 years ago the hotel is, and still, continues to make grades both locally and internationally.
This was confirmed by the gigantic or better still gargantuan-oak Junior Manda, the sales and marketing manager- who admitted the hotel has (surprisingly or not) made a name on the international front due to its pedigree despite its size. Yes, size matters not but euros and yens!
"For us it's about giving the best and going the extra length to ascertain our guests are treated like Queens and Kings," says Manda, accompanied with a gentle smile but intimidating body structure.
"We draw large numbers from China, Britain, Japan and Italians, amongst others. But our major source of income is locals due to our proximity, safety and affordable rates.
Approximately 90% of our income is generated from locals, such as Government departments, he quips magically.
Thanks its winter he had to cover those muscular biceps… bloody agent. Yep I said it now with conviction.
What sells MorningStar Hotel I probe? "Food. We've got the best chefs in town and this augurs well for us. Secondly, our friendly, committed and ever hardworking staff.
This sets us apart from our competitors and we shall continue on that philosophy and benchmark on others as we go along," he says shyly but with authority.
Celebrating its fifth anniversary this year and undergoing minor changes (adding new glass lifts)- the hotel is not far from the thick of things such the CBD, State Theatre, Gautrain, Dinokeng Game Reserve, Freedom Park, Museums, Universities, Jacaranda Gardens, Government offices and Embassies and stadiums, amongst others.
Boasting 49 rooms- standard rooms can accommodate up to three guests per room, while family rooms can offer accommodation for up to five guests per room. It is also Disable Friendly.
They come in three type rooms: standard double, standard triple and family rooms.
Interleading family rooms are available on request says, Manda.
All rooms come standard with a comfortable double bed and the Standard Triple and Family Rooms have an additional full-size bunk bed. The rooms are all furbished with an en-suite bathroom, air conditioner, flat screen television, tea/coffee making facilities, electronic safe, in house telephone and selected DSTV channels as well as a writing desk and vanity area to add to your comfort.
"This is added money value for our guests, considering they could've easily gone to other hotels but instead they keep coming back as a result of our affordable rates.
The newly refurbished Conference Center has seen increased bookings as well.
This also adds to what sells the establishment, "says the former Protea Hotel, Riviera Hotel and Premier Foods, manager.
According to Manda, MorningStar Hotel stands for: beacon of hope for the lives of Pretorians. Amen to that!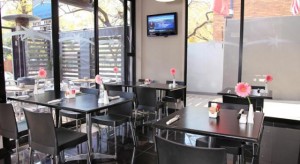 To attest to that, the hotel has adopted an orphanage in Hammanskraal called Lebogang, whose task is to care for the abandoned kids, and 'our commitment is to put a smile on those cute yet vulnerable faces' continues Manda, heartily.
The hotel will intensify its marketing campaigns as part of increasing awareness on the orphanage, amongst others, he says, whose establishments has bagged the AA's Best Budget Hotel in Gauteng for 2012 and Trip Advisor Certificate of Excellence 2014 Award, although the hotelier says for them it's not about achievements but guests.
Guests will write our history, he chuckles.
To add cherry on top of a cake –the management has decided a new hotel at Brooklyn (Pta) in the next two years will be built, as part of the company's future projections.
'For now we're still relevant to Pretoria'.
Already, the hotel has partnered with the popular State Theatre, to conscientious locals to stay around instead of driving and visiting other places during festive season.
A play titled 'Mzansi Fela' is on at the theatre as part of increasing awareness on plays and also increasing bed-occupation at the hotel.
As a parting shot, Manda says unfortunately the hotel lost R700 000 due to the controversial Unabridged Birth Certificates. Guests as far as Benin had to be turned down.
"We fully understand Government's concerns on child trafficking and other contentious issues but we hope they reach an understanding with Tourism sectors on how to best handle this matter."
In three words to describe the hotel- Follow The Star…