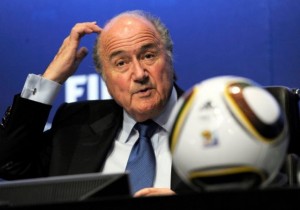 These startling news surface when the FIFA Presidential Elections in Zurich, is due to take place for two-days.
South African businessman who is embroiled in a murky divorce Tokyo Sexwale is also attending.
Former FIFA vice president Jack Warner was arrested in Trinidad and Tobago on Wednesday, hours after US prosecutors claimed he accepted bribes during host selections for the 1998 and 2010 World Cups in France and South Africa.
The Trinidadian's name was on a list of nine current or former FIFA officials and five business executives who "abused their positions of trust to acquire millions of dollars in bribes and kickbacks," US Attorney General Loretta Lynch said in New York.
Unfortunately, SA has also been alleged to have received bribes for the selection of the 2010 World Cup host.
Unconfirmed reports are that two SA officials have been implicated.
This morning the minister of Sport Fikile Mbalula will address media regarding this burning issue, that's if it is true, SA's image would be tainted.
Amidst all this wrong-doing FIFA's major sponsors are considering their positions such as Adidas, VISA and Coca-Cola, following the allegations.