Following the voting from guests as winners,' they ousted other top performers drawn from all over the country.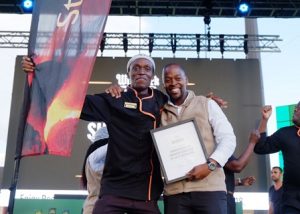 The grand finale was held at Nasrec, outside Soweto were revellers came to witness who has the best braai ever, last weekend.
The two months campaign saw mzansi's A-listers such as Vaal Monate Café (Vaa), Rands Lifestyle Space (Khayalitsha), Centurion Shisa Nyama (Pta), Social Link Shisanyama and Car Wash (Soweto), Meat Lounge (Sunninghill), Max Lifestyle & Eyadini (Dbn KZN), battling it out  to make it to the finals in Jozi.
Elated Senzosakhe Mhlongo, MD of Busy Corner said: "A big thank you to Windhoek Beer for launching this competition and offering us the opportunity to participate.
We already felt like winners when we joined the top eight finalists and were proud to compete against such tough competition.
Imbizo Shisanyama is all about family and friends, celebrating our culture and heritage, it's about the great African lifestyle it's about creating memories that makes an exceptional experience.  Being voted the best by consumers is the biggest prize of all it's a vote of confidence and confirmation of our quality offering, from the people who really count."
As the 2017 winners Imbizo Shisanyama/Busy Corner collected prizes worth more than R1m.
Windhoek Beer Brand Manager, Lebo Xhola commented: "Windhoek Beer has invested time and passion into crafting our beer.
The Windhoek Shisanyama Search provided the opportunity to unearth and recognise people who share these values – offering consumers an opportunity to immerse themselves in environments that host a special combination of a great vibe coupled with good food and an ice cold Windhoek. Imbizo Shisanyama is a great example of such an establishment and Windhoek is proud to support them in continuing to grow their craft."
Metro FM's Mo Flava, Black Motion feat- Nokwazi, Soweto Samthing and others, provided entertainment to guests who also feasted on the sumptuous meat all day long.
Famous Chef and Judge from Alexandra -Benny Masekwameng says, the competition was closely contested and the guys gave their best.
Its' Wind-meat' time since festive is upon us…
Ed Note. Erratum– we reported the prize for the winner is over R1m. It has been brought to our attention it is actually R500 000 worth of prizes.