THE Coca-Cola Khaya Majola Cricket Week is where South Africa's future cricket heroes are made.
The U19 cricket tournament will see over 200 of the top young players from around the country and neighbouring country Namibia, battle it out in an action-packed week.
This year, the tournament returns to Johannesburg and will take place from 17-21 December 2017.
The tournament, whic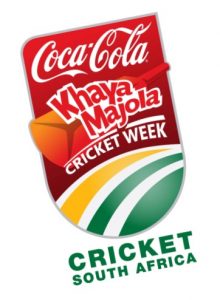 h is synonymous in showcasing the best in the country's, up and coming, youth cricket talent, has produced more than 80 Proteas since South Africa's readmission into the international cricket arena.
The recently capped Protea, Wiaan Mulder, captained Gauteng at the 2016 Coca-Cola Khaya Majola Week, when he returned to the tournament for a third year in a row.  In the same year, the allrounder was promoted to franchise cricket and played his maiden game for the bizhub Highveld Lions.
Following a brilliant 2016 cricket season, Mulder was chosen to lead the SA Schools team as they took on the SA Colts team during the annual Cubs Week tournament. This year proved to be a breakthrough year for the 19-year-old as he was selected to captain the Coca-Cola u19 team in matches against Sri Lanka and Zimbabwe, played in the SA A side and also made his debut for the Proteas in an ODI match against Bangladesh.
Phindile Phiri, Coca-Cola Africa's Senior Communications Manager, Brand Experience commented, "Coca-Cola Africa has been a proud sponsor of the Coca-Cola Khaya Majola Cricket Week for the past 39 years and we have witnessed some of the best cricket talent come through its ranks.
It's great to see players like Wiaan Mulder, who played in the tournament a year ago, be part of the Proteas setup. The Coca-Cola Khaya Majola Cricket Week is a platform for identifying the best in youth cricket. We look forward to seeing more talent being unearthed at this year's tournament."
At this year's Coca-Cola Khaya Majola Cricket Week, Coca-Cola will once again be recognising standout players with the prestigious Coca-Cola Hero of the Day award.
The Coca-Cola Hero of the Day is not necessarily the best player on the field, but the player that really stood out during the match. He could be the wicketkeeper who made an amazing dive catch, a tail-ender who smashed a reverse sweep for six to win the match or even the player showing sportsmanship and embodying the spirit of the gentleman's game.
"The aim of the CSA Pipeline is for CSA to be the best cricket playing nation in the world and to achieve this each level of the pipeline needs to play its strategic part," commented CSA General Manager: Cricket, Corrie van Zyl.
"Schools cricket has always been the backbone of the pipeline and it is important that this remains the case."
The the tourney makes it way back to Jozi from December 17-21 2017.