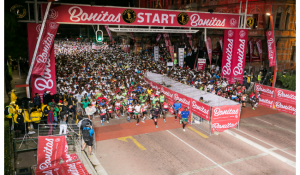 They were granted dispensation until Thursday, 21 May 2015.
CMA General Manager, Chris Fisher says, 'In line with the CMA's Vision, we plan to make the 90th Comrades Marathon even more inclusive. We have therefore decided to grant a dispensation to those runners who did not submit their qualifying details to the CMA despite several requests to do so.'
However, these runners must take note that this dispensation comes with limitations. These late changes and having to chase up runners for this information places tremendous pressure on our office staff and volunteers. It may necessitate a dedicated queue at the Durban Registration Venue at the Comrades Expo, specifically for all those who have missed the cut-off date, so that they do not delay the registration of other runners.
This will only be available at the Durban Registration Venue at the Comrades Expo and not in Pietermaritzburg. Furthermore, they will have to start at the back of the race, as the allocation of seeding batches has already closed.
Fisher says, 'We have been inundated with both appeals and threats from runners who missed the deadline to be allowed to run the celebratory edition of the race on Sunday, 31 May 2015, including some incredibly original excuses from our runners as to why they had failed to submit these important details.'
Fisher adds, 'One of our most important stakeholders are our runners, hence we have decided to allow this dispensation in line with the 90th Comrades celebration and a brand personality of empathy, character, humility and togetherness.
At the end of the day Comrades is about the spirit that accompanies the race. Comrades help other comrades. The 90th Comrades Marathon promises to be the best yet and we look forward to seeing more runners on the Start line.'
CMA Chairman Macdonald Chitja added, "This decision was taken with only the interest of our runners at heart and allowing them to "Be Part of It" in our 90th celebratory race.
We take cognizance of the added pressure this brings and take this opportunity to thank our General Manager and Race Director for supporting and implementing the decision, notwithstanding the added work the decision brings to the team."
NB. The race begins at 5am on Sunday.