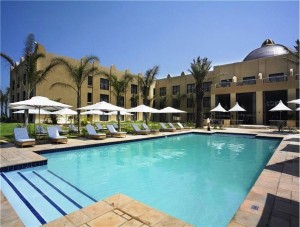 I did 'Your Majesty' with my colleague as guests at the Sibaya Lodge-nestled on 48 hectares of coastal highland, with 360 degree ocean and hinterland views.
The sugar-canes surroundings complete the definition of this majestic venue in the KwaZulu-Natal's East Coast.
Sibaya is a Zulu word for 'cattle kraal' or 'boma' and yes, cattles are in abundance in that Province.
The postcard-like view of the Indian Ocean and manicured gardens, sells apart the lodge from its competitors with its tantalising dishes from Africa to Asia (A2A) presented in a deluxe buffet style and an unforgettable Continental breakfast.
Despite making it late to our breakfasts due to previous nights outing after attending the annual Tourism Month activities, the staff is always prepared to accommodate your needs -as courtesy. Kudus to that…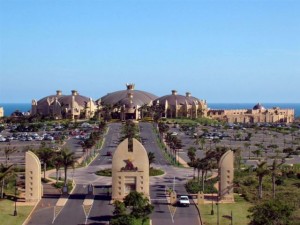 Talk of accommodating, we had a chat with Entertainment Co-ordinator at the Casino, Michael Ntongana, who originates from Bizana- Eastern Cape. And yes, he had to put cherry on top by verifying he's from the same place as the ANC stalwart Dr OR Tambo.
"Killer-Man" as Ntongana 'was' known during his football hey days, has been with Sun International for a record 15 years' and he' still eager to learn more.
The tall and slender character who oozes with confidence over-sees the entertainment section that means anything and everything that has to with entertainment is his responsibility.
"I make sure theatres, slots machines and shows are productive because they're our source of revenue," says the former PR student.
An array of entertainment and state-of-the art gaming on offer and over 1100 smart-card operated slots with touch-screen technology and 45 roulette, blackjack and poker tables is Mtongana's responsibility. Add the 592 thatched iZulu Theatre seater that has hosted sold out Michael Jackson and Whitney Houston 'impersonators' shows, Umoja and Tap Dogs, to mention the few.
Locally, 'we accommodate Bollywood and others', says the fortunate Ntongana who joined Sibaya, after responding on an advert and subsequent to that was called for interview. As they say the rest is history…
For your information the lodge features 118 luxurious rooms on offer and magnificent aerial views facing Umhlanga (7kms away) and the burgeoning Gate-Way Mall that is home to nauseating construction trucks and eye-sore rubble.
The Sibaya Casino & Entertainment Kingdom incorporates the Royal Sibaya Hotel, a luxury hotel with 12 suites and 24 rooms for exclusive use by top end gamers and the Lodge.
The popular Krakatoa, 'volcanic eruption' three-tier show bar is an experience in sensory bedazzlement. This night life venue, named after one of the most famous volcano's in history, is one of the most happening nightspots in town.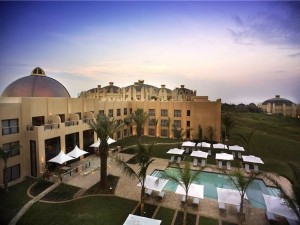 The spectacular venue is split into three hospitality levels and is used all year round for product launches events and parties as well as being a nightclub on Fridays and Saturdays.
In his parting shot Ntongana, says his future plan is to be an Entertainment Director within the stable. 'But that would mean investment in studying and sacrificing my family's time' he quipped laughingly.
As alluded in my opening stanza, the Kingdom has called…
For more information visit: sibayainfo@suninternational.com