CORRUPTION AND staff shortages are some of the concerns that may affect normality at Chris Hani Baragwanath Academic Hospital in Soweto this morning.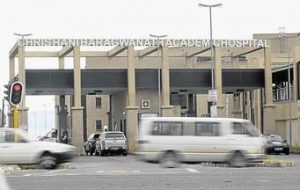 Staff at one of the biggest hospitals in the southern hemisphere, affiliated to Unions have expressed utter concerns playing out at the hospital and squarely put the blame on the CE Sifiso Maseko and other officials.
The unions say they plan to hand over a memorandum to the hospital's management, demanding the release of a report of an investigation into maladministration at the hospital that has not seen the light of the day.
Labour unions have levelled corruption against Bara that has also affected staff shortages.
Spokesperson for the union Yandisa Zungula says the department must intervene at the hospital and focus particularly on corruption involving the acting CEO, Sifiso Maseko, and other officials, as well as staff shortages.
At the time of publishing demonstrations had taken place at Vuyani Mabaxa Park, although unconfirmed if patients have been allowed in at the hospital and if nurses and doctors have attended to them.
No comment was available from Bara's management or department of Health in Gauteng at the time of publishing.
Meanwhile, one person has died in a shack fire in Mapetla, Soweto on Monday morning.
Five shacks have been destroyed in the blaze.
The cause of the fire is not yet known.
Johannesburg Emergency Service's Robert Mulaudzi says the man died due to smoke inhalation.
"He was confirmed dead on scene. We just want to urge all our residents to continue looking after any heating devices which might cause fire incidences at home."