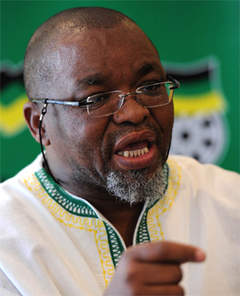 The two-day meeting will discuss the successes and failures of the ANC administration over the past five years.
It is preceded by a normal sitting of the National Executive Committee meeting which looked at preparations for elections and the progress made in the launching of provincial manifestoes.
The Lekgotla of the ANC comes just months before the country goes to elections and with the term of the current administration nearing its end.
Party Secretary General Gwede Mantashe says their meeting will be candid and honest about the achievements and failures of the party in government.
This meeting will culminate into the National List Conference to finalise the nomination of who will represent the ANC in parliament and the nine provincial legislatures.
Already, President Jacob Zuma and his deputy Cyril Ramaphosa are leading the national list to Parliament.
SLM Ed. The Pres is also attending following an operation this last week.
Its also likely that lekgotla will discuss the controversies plaguing Prasa, a State Owend Entity, that has hogged media headlines for all reasons.