It dates back as far as 1984, when a midsize SUV called the Hilux Surf was introduced and sold to selected markets, including Brazil, Australia, New Zealand, the United Kingdom, Pakistan and Afghanistan.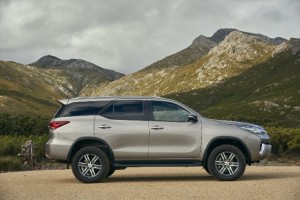 Two decades later, a much more refined design with similar underpinnings to the Hilux Surf was introduced as the Toyota Fortuner to more than 110 markets in 2005.
The first-generation Fortuner was launched in 2006 in South Africa and soon became the SUV of choice for bush and urban lifestyle enthusiasts alike.
"The new Fortuner has a long, wider stance versus the outgoing model, and its capabilities to adapt into every environment like a chameleon have been reinforced," says Calvyn Hamman, sales and marketing Senior Vice president of Toyota South Africa Motors (TSAM).
"It can transform seamlessly from a sophisticated urban warrior to a fierce bush conqueror."
The peace of mind that the new Fortuner offers is reflected in the following elements that distinguish its positioning in the competitive midsize SUV market:
*New-era diesel engines and power train
Improved performance
New 6-speed manual and auto transmissions
On- and off-road capabilities
*New-era frame and suspension
4WD electric switch (4×4 models)
Active Traction Control
Hill-start Assist Control
Downhill Assist Control (4×4 models)
*Increased levels of comfort
Improved ride and comfort
Reduced NVH
Premium feel
*Improved tech
Smart entry
Power back door (4.0 V6)
7″ touchscreen audio (selected models)
*Enhanced versatility
Ample storage space
Full 7-seater
One-touch seat stowage 2ndand 3rd row
*Safety and security
New-driver knee airbag
Speed-sensing auto door lock
New anti-theft system
ISOFIX
Trailer Sway Control
Retail pricing for the new Fortuner is as follows:
2.4 GD-6 Raised Body Manual: R436 400
2.4 GD-6 Raised Body Automatic: R453 400
2.7 VVT-i Raised Body Automatic: R429 400
2.8 GD-6 Raised Body Manual: R513 400
2.8 GD-6 4×4 Manual: R571 400
2.8 GD-6 Raised Body Automatic: R531 400
2.8 GD-6 4×4 Automatic: R589 400
4.0 V6 4×4 Automatic: R633 400