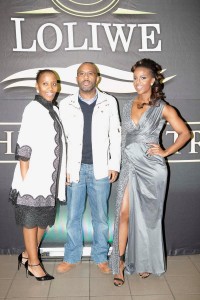 Unceremoniously, the department has terminated its contract with Jezreel Group headed by Ntebo Lesetla-Peri, who has been marketing and promoting the train on behalf of the department for the past three-years', with only days before the actual event.
As things stand the Loliwe Train will no longer be sponsored but will now depend on people to purchase packages available.
According to Ntebo this was uncalled for, because they could have notified me before printing and using all my company resources to market the train.
"Yes, the department has terminated our three-year contract of which I don't have a problem with, except to say they could have told me earlier this year," says the worried Ntebo.
"We met for presentations this year, and last month I presented new ideas of which they were happy with. Suddenly, I was hauled to the department's offices in KZN only to be told my services will no longer be required. With only days to go what am I supposed to do now?" she asked angrily.
Continued Ntebo:"This was not a tender but my idea to help market both rail tourism and offer an experience that KZN has in abundance to the outside-world of which I took advantage of, and the department took keen interest in my proposition," says former SABC news reporter.
The concept has worked because it has drawn large turnout from Botswana businessmen and other SADC states, says Ntebo, who also reassured the fun, loving people of the train that it is steaming ahead, noma-kanjani.
"The train is still going to Durban July as my project with or without any backing. My message to those who haven't bought the packages, I advise you to do so, because by next week they will be sold-out, "she assured.
Spokesperson for the KZN Economic Development, Tourism and Environmental Affairs Bheko Madlala did confirm the train won't happen this year.
"Yes, I can confirm that the Loliwe Train won't take place this year, but call me next week for more clarity," says Madlala, when asked why such a decision was taken at this very late stage.
Loliwe Train is a social and fun train that seeks to market and promote tourism in the KZN Province, as one of celebrated showbiz on the South African calendar- the Durban July.
The event takes place on July 4.
For more information on packages call Tumi on 012 665-0654, 061-177 2461 or 083 521 8757 or rsvp@loliwe.com