This as he tried in vain to apply for electricity hike, saying its essential to keep the lights on.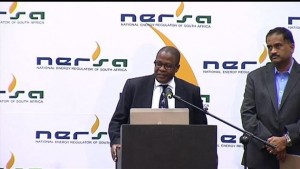 Nersa is holding public hearings at Nasrec, next to Soweto in the utility's application for a 25.3 percent increase.
Molefe was embarrassed when the board chair put it to him that a request for application was submitted by a certain Mr Govender, whom in turn said he was not aware of the application that the board has.
"Mr Molefe, you were supposed to have studied the application submitted by Eskom to increase electricity, "reiterated the board chair.
In his response, Molefe said "as a new CE at Eskom I was not presented with the application" much to the dismay of the attendants.
About 12 percent has already been approved, but Molefe says the utility needs more money to continue buying diesel.
The acting CE has explained that the tariff hike Eskom is seeking will include 9.5 percent, which will be used to run open-cycle gas turbines.
These diesel generators operate every day in order to minimise load shedding.
If they are not used, South Africa would experience stage two load shedding every day from early in the morning until the evening.
Molefe says they need to continue buying diesel, as this will cost much less than the impact of constant load shedding.
"We'll calculate costs that are prudent and our tariffs will be based not on what our desires for profits are, but on what is necessary for us to cover costs. And that is why we are here, praying, that you Nersa give us the money to cover the costs of diesel."
The hearing continues.