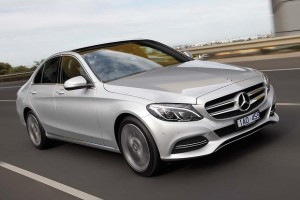 Mercedes-Benz South Africa added another milestone to its journey and proud heritage of almost seventy years in the country with the one millionth Mercedes-Benz passenger car produced at its East London plant.
The one millionth Mercedes-Benz passenger car is a white right-hand drive C200 Mercedes-Benz C-Class.
It was on 31 January 1958, 57 years ago, when the first Mercedes-Benz passenger car, a W121 Nap Vista Blue Mercedes-Benz 190, came off the line of the then Car Distributors Assembly (CDA) in East London.
CDA, the company that would become Mercedes-Benz South Africa, opened its doors ten years earlier and was contracted in 1958 by Daimler-Benz to assemble Mercedes-Benz products.
This first unit was dispatched to John Williams Motors in Bloemfontein. Since then, MBSA has entrenched its place in the South African story, having produced 24 different models with the number of units produced per model steadily climbing to where the East London plant is on track this year to produce a record number of units – for the domestic market and for export.
"MBSA will continue to create jobs, developing the economy and essentially transferring skills. Over the years we have always placed emphasis on superior quality in the products we deliver to our customers.
For us excellence is the norm and should not simply be an expectation of something that can be achieved in the future. It is also befitting that the one millionth Mercedes-Benz passenger car produced here is the latest generation C-Class, which was deservedly announced as the 2015 World Car of the Year in April 2015," says Mercedes-Benz South Africa CEO and Executive Director Manufacturing, Arno van der Merwe.
The group of companies recorded total annualised revenue of R45.32bn, up by 5% from the previous year, thus strengthening the company's journey of sustainable growth.
"The run-up and change-over period to the production of the new C-Class concluded smoothly and we are now on track for record production from the plant this year," says Van der Merwe.
Van der Merwe touts the dedication and passion of the plant's employees and healthy labour relations as one of the key factors in the success story of the company and look forward producing another million units.