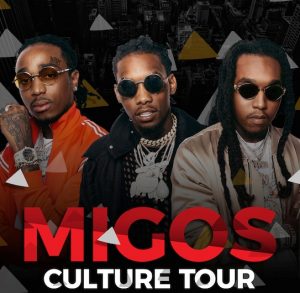 This was confirmed by the organizers that Migos will be headed to South Africa for their two legged culture tour in October 2017, their debut show in the country.
Formed in 2009, the trio comprise of members Quavo (born Quavious Keyate Marshall), Takeoff (born Kirshnik Khari Ball) and Offset (born Kiari Kendrell Cephus), originally known as Polo Club and from Georgia, USA.
The three members are directly related and were raised together; Quavo is Takeoff's uncle, and Offset is Quavo's cousin.
The trio are known for hits such as Rain Drop- Drop Top, Versace, Look at My Dab and mega-hit Bad and Boujee, that clogged over 700m plays worldwide.
Migos will perform in Johannesburg (Ticket Pro Dome) and Durban ICC only.
Tickets range from R350 to R790 and are available from Thursday 10 August in Johannesburg and Monday 14 August in Durban.
Friday: October 20 Durban ICC R690 – Golden Circle & R350 – General Admission
Saturday: 21 October TicketproDome- R790 – Golden Circle & R450 – General Admission
Local supporting acts will be named soon.