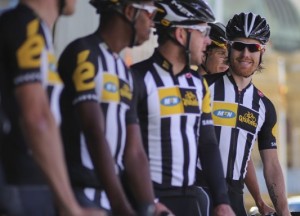 The team is one of the only three in the tour that still has all nine of its starting tour riders in the competition; this is an achievement that needs to be commended.
Since the inception of Tour de France some 102 years ago, Africa saw its first ever UCI registered cycling team taking full participation in the competition. Holding second position in the team competition yesterday, Team MTN-Qhubeka did not only make South Africa but the rest of the continent proud.
Recording their 12TH and 10TH place after the 17th stage the team yet again proved that it was not because Africa was not competitive when it was absent in all these years but it needed to be given an opportunity. And MTN powered by Samsung saw it fit to give our athletes in Africa that opportunity.
Minister Fikile Mbalula commends the private sector investment led by MTN into the team. It yet again affirms his call for private sector investment in Sport; that it is through such partnerships that Sport will see real sustainable development.
"We thank all South Africans for their continued support of Team MTN-Qhubeka which not only represent us South Africans but our continent Africa as a whole. We have no doubts that with our support Team Qhubeka will continue to do well as demonstrated.
We are an active and winning nation and Team MTN-Qhubeka is a good example of that. Our National Sport Plan calls for shared responsibility from government and the private sector in investing and developing sport. As government, we thank MTN for sharing this responsibility and once again using sport to unite Africans," Minister Mbalula ended.