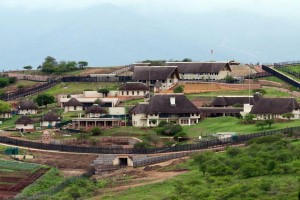 The DA is conducting an alternative oversight visit to the communities around President Jacob Zuma's private residence to ascertain the living conditions of "ordinary" Nkandla residents.
And Parliament's special ad hoc committee on Nkandla will spend two hours on Wednesday inspecting the upgrades to Zuma's homestead.
Despite the rain, the DA team comprising MPs Phumzile Van Damme, John Steenhuisen, DA KwaZulu-Natal leader Zwakele Mncwango, DA KwaZulu-Natal chairperson Haniff Hoosen and DA KwaZulu-Natal deputy leader Mergan Chetty are visiting homes and chatting to residents in the area.
Zuma supporters have congregated outside his homestead singing struggle songs.
"We will assess the standard of living of those in Nkandla who lead ordinary lives in contrast to the palatial and extravagant private home of President Zuma that the Nkandla ad hoc committee members will be overseeing at the same time," read a statement released by the DA ahead of the visit.
The DA delegation will also visit the R135 million South African National Defence Force (SANDF) project built to house soldiers stationed at Zuma's home.
On Tuesday Police Minister Nathi Nhleko briefed committee members on his report – released in May – on the security upgrades at Nkandla. The sitting was held at the KZN legislature in Pietermaritzburg.
Ed. Its unconfirmed if Pres JG Zuma was home during the visit.