We caught up with the energetic Gaofenngwe Tlatsana from Mahikeng, who was hard at work preparing for World Games in Denmark this year.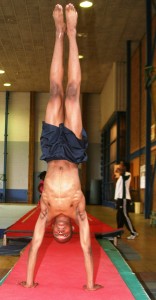 Tall and oozing with confidence Tlatsane is a product of North West Province Gymnasts.
Along with fellow teammate Kabelo Morao, they will be competing in championship finals in November from 26 to December 06.
"As you can see we're hard at work. Nothing will deter us although funding was a challenge because our sport is not known that much and as a result, we were short of funding," says Tlatsana, who began the sport as far as 2006.
With funding almost sorted out the 15-year old Tlatsana and a grade 10 pupil at Curro Mahikeng, says they will keep training hard and focus on what's at stake: their dream.
The latter began gymnastics by coincidence because he was interested in dancing but gymnastics; particularly tumbling drew his attention and since then, has not looked back.
"Also, my coach saw the passion and fire in me and randomly chose me to be part of his gym squad. I bet he's proud of me now," he cracked a laugh, with sweat pouring down his entire body
According to Tlatsana, there's a vast difference between artistic Gymnastics and Tumbling.
Also, he pointed that there's no Tumbling for Olympics but only for Gymnastics.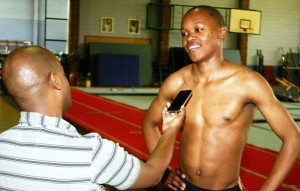 Armed with national and international awards to his credit, coach Lebogang Ramokopelwa (29) who has competed in all major Gymnastic/Tumbling Africa Champs and international Games, admitted this is a unique sporting discipline that needs funding because it is not popular like other sporting codes.
Ramokopelwa, who will accompany the boys, oversees almost 15 members and some as young as 3 to six year old's.
The artistic gymnasts/tumblers are the only two from NW province and in the country who will be vying for green colours at the championships.