She founded an NPO Kidz Hub in Dobsonville in 2014, whose fundamental value is to pair children living in location with university students in an effort to share skills.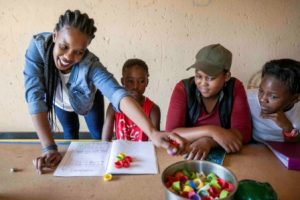 "Social entrepreneurship can address SA's social challenges by empowering ordinary individuals to find innovative solutions to the problems in their own communities," she pointed out, during Open Day last year.
The 24 year old Randy, who under her belt has achieved Tourism Certificate and worked for a travel agency, amongst others, took time off her kids for a Q&A.
a) How does Kidz Hub benefit the society?
Kidz Hub is to create awareness about the importance of personal development in townships, making sure that we are contributing towards grooming our future leaders into becoming well rounded adults.
 b)How does Kidz Hub receive their funds to grow their business?
The commitment fees and money won from competition (Gibs Festival of Ideas 2016), and through sponsorships.
c) How can people or companies get involved with the sponsoring of Kidz Hub?
By partnering and collaborating with Kidz Hub, our current need is getting our own space where we can work at, as well as transport for our tutors would also assist with our expenses.
d) Do the children or the parents have to pay, if so how much?
We have a commitment fee we charge which is R160 a month
e) How has Kidz Hub grown since the Red Bull Amaphiko Academy?
The access to information that Red Bull Amaphiko has shared is amazing. It has helped in how we run our organization. Since we work with a lot of university students we now have a convenient space we use to hold our workshops, this is at the Livity Africa offices in Braamfontein.
The Red Bull Amaphiko Academy has provided me with an amazing mentor who is very supportive.
f) After the Red Bull Amaphiko Academy, how have you used the tools that you received at the academy to grow your business?
I have shared most of the tools with my team, which makes it easier for us to work on our goals, form strategy to the business model.
g) What does the future hold for Kidz Hub?
More partnerships and collaborations with businesses, institutions and schools also having more branches in and around Soweto.
h) What is Kidz Hub roll out plan for your afterschool program?
To have as much personal development activities as possible to make sure township kids are aware of their abilities.
i) How has the community responded to the afterschool program and how many people benefit from it?
The response from the community has been great, we have 12 kids who are currently part of our program, 15 university students who volunteer as tutors +- 50 people including the community members and parents.
According to Randy, she's a social entrepreneur because … "I want to see the work that I do, the purpose that I serve and the contributions that I make having a lasting effect on humanity.
What many people don't know about being a young entrepreneur is … that we are selfish and naive, we take advantage of being young by taking risky decisions that don't always work, and we take them anyway because we can afford to fail and try again.
What young entrepreneurs need is … MENTORSHIP!
What the government and corporates can do to support young entrepreneurs is … to give them access to the market, basically give them business and share their network, not just give them money!"