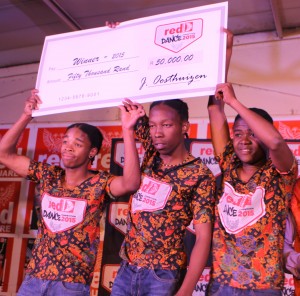 For their efforts and dedication to their artistic work they pocketed a cool R50 000.
Second place went to The Survivor Crew who pocketed R10 000 and Red Devils took home R5000 for third place, respectively.
Soulistic Fusion Trio is made up of Khulekani Nxumalo, Ithupeng Sereme and Khulekani Dhlamini.
"At a certain stage we were nervous because the crowd was strongly routing for their home (Pretoria) crews. However because our moves are pure creativity and because we are not a static kind of crew we revealed more of our capability and variety in entertainment offering and the audience warmed up to us.
In fact we consider our routines to be a new school of isibunjwa – the dance moves of the future. Quite a lot within our dance sets is inspired by everything, particularly movements, that we see around us," says Dlamini, a member of the trio-who said they will use the funds to better themselves.
According to Victor Selaelo- marketing manager at RedSquare, they plan to grow the initiative by branching out to other areas following a resounding success next year.
The the competition drew interest from as far as Kimberly and NW.