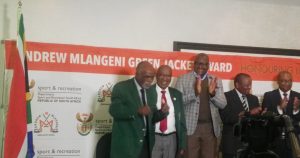 The legendary stalwart and former Parliamentarian was addressing guests at his 7th annual Andrew Mlangeni Foundation Green Jacket Awards dinner at Irene Country Cub, Centurion last night.
What was meant to be a night of celebration turned to the abuse, killing and abduction of women and children currently shaming our country.
"I will during my meeting address, tell the public that the Government should revisit the life sentence to the perpetrators.
"My call to fellow sportsmen and women, use your influence and status to quell the escalating abuse of our mothers and children. This can't be happening in our lifetime and I can't be associated with this," said ubaba Mlangeni with a deep heart.
The awards saw seven sporting legends -some posthumously -being presented with R20 000 cash each and Green Jackets.
Shedding tears of joy was another boxing legend Elijah "Tap Tap" Makhathini, who was accompanied by his son.
"This is emotional, I'm lost for words considering during our times we were given R200 after winning your fight. Emotional because I'm honoured while I'm still alive and not six feet under the ground," he told this reporter during interview.
I'm still shocked because this is the biggest cheque I've ever received since my boxing days," quipped Tap Tap as he's fondly known by his peers in the boxing world in iSizulu.
The 'Tap Tap' nickname was given because of heavy tap punches I throwed at my opponents, said the strong resembling Makhathini, currently residing at Eshowe-KwaZulu-Natal.
"Even though I no longer do much, passionately I still
give advise to young, aspiring boxers from my village," he says flexing his fists to show he has that killer punch though age is no longer on his side.
Premier of Gauteng David Makhura made a call to young-ones to be disciplined and follow in the footsteps of the likes of ubaba Mlangeni.
"Sport was used a form to fight apartheid and since we're living in better times, the call is for our young boys and girls to use this opportunity to learn from the greats and become something in their own respective communities."
"Talent without discipline is a disaster and great legends such as ubaba Mlangeni teach us that. We must all take a leaf from them, especially since June is Youth Month," said Makhura, who spoke on behalf of both minister and his deputy of sport in absentia.
The legend Ntate Mlangeni teaches us about sacrifices; it is because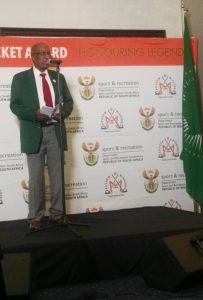 of his sacrifice that we are celebrating tonight."
The Andrew Mlangeni Green Jacket Recipients 2017:
Abdul Abass – Sport Activist (Posthumous)
Basil D'Oliviera – Cricket (Posthumous)
Cheryl Roberts – Sport Activist
Daniel Cheeky Watson – Rugby
Darius Dhlomo – Football and Boxing (Posthumous)
Elijah "Tap Tap" Makhathini – Boxing
Khaya Majola – Cricket  (Posthumous)
Dignitaries included the likes of Ntambi Ravele, Moss Mashisi, SASCOC headhonchos, SABC spin doctor Kaizer Kganyago, Deshi Baktawer and former Kaizer Chiefs & Bafana striker Mark Williams.