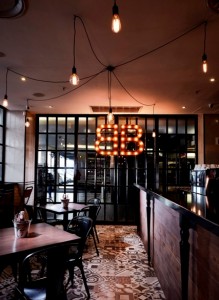 According to the owners, New York inspired theme, accompanied by a touch of modern décor and urban fittings, customers can now look forward to a dining experience unlike any other in the South African market.
The founders of Brooklyn Brothers Four News, are brains behind other well known brands such as Krispy Kreme Donuts SA, News Cafe, Moyo, Smooch, Café Fino and Go!
According to Varina Singh, Fournews Marketing Support Specialist- five more stores will open in Gauteng before the end of the year.
"The Fournews Group has developed this brand from concept and, with our 20 years'of experience in the food and beverage industry, we believe we've found the perfect formula to make it an all-out success and watch Brooklyn Brothers become entrenched in our local urban culture," says Singh, as we made damage to all kinds of burgers on offer and quench the thirst with newly launched craft beer.
If you enjoy feasting buffalo wings, then this should be your next stop!