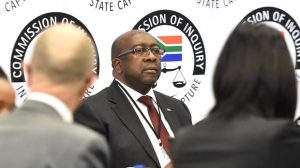 This follows Nene's testimony at the Zondo Commission of inquiry into allegations of state capture where he admitted that he met the Gupta brothers eight times at both their home in Saxonwold and their offices in Midrand.
Subsequent to his appearance before the commission, Nene released a statement apologising for the meeting with the controversial family.
"These visits took place during the period from 2010 to 2014' when I was deputy minister and finance minister respectively. Part of my duty as a public office bearer is to meet fellow South Africans and other shareholders when they request to do so," Nene said in a statement on the official Treasury letterhead.
"However' I was wrong in meeting the Guptas at their residence and not in my office or at least a public place."
As a result, the country and particularly the Economic Freedom Fighter's headhoncho Julius Malema, has called for Nene's head.
To compound matters, allegations making rounds are his son Siyabonga also benefited financially during his position at the Public Investment Company (that oversees Government employees pension fund).
Yes, the only blunder committed by Nene was to meet up with the controversial family and only declaring at the Commission, albeit many still believe should be commended for taking such a  bold and career breaking move.
Question on economists, analysts and the country is whether the decision to sack him now will augur well considering Nene has to present his Mid-Term Budget in two weeks and how will the economic stabilization and the market react, as a result of 'technical recession' we're experiencing?
Tough call for the President- retain him or not he will be still at fault…
Potential candidates have been bandied about such as:
Barbara Creecy, Gauteng MEC finance
Lesetja Kganyago: SARB Governor
Zweli Mkhize: Cooperative governance and traditional affairs minister
Following Nene's admission of guilt- whose next?
We await with bated breath what next move will be taken by Pres Ramaphosa?