'LADY OF COMEDY' Tumi Morake has been replaced by another great Nik Rabinowitz for another installment of the Big 5 Comedy Show.
The show features top comedians who h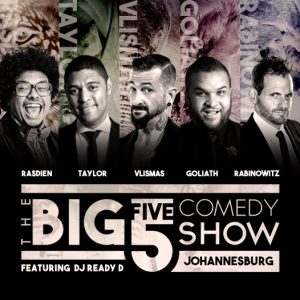 ave earned their stripes in the industry such as John Vlismas, Joey Rasdien, Stuart Taylor and Jason Goliath.
It goes live at Teatro Theatre, Montecasino on July 27 and 28 2018.
The Big 5 Comedy Show was a sold-out sensation last year in Cape Town, Port Elizabeth and Joburg and all indications are that it will be another not-to-be-missed comic affair.
Elisca Taylor of Taylor Made, co-producer of the show says: "We are delighted to bring audiences the biggest and best acts who are rarely seen together on the same stage.
The line-up is diverse and caters to all tastes but, the one thing they all have in common, is that they are all industry giants. The Big 5 is such an iconic and uniquely African and South African concept. It represents that which is most sought-after. And that is what we are creating with this show."
In mzansi the mentioning of Big Five is proudly associated with our pride Lion, Elephant, Leopard, Rhinoceros and Buffalo. So amongst the above mentioned comedians who is who in the bush-oops on the stage?
The legendary DJ Ready D will keep revellers entertained for both nights.
Tickets are available at Computicket and range from R150 to R300. The show is rated PG 16.
Oh, on why Tumi was replaced remains a mystery- anyone with inside information?