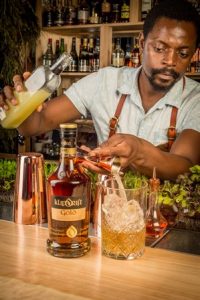 But thanks to Kurt Schlechter, innovative mixologist and owner of brandy-centric experiential cocktail kitchen, Cause Effect in Cape Town, the spirit is firmly back in the spotlight.
Grab one of South Africa's finest potstill brandies, Klipdrift Gold, and get shaking – barman Michael Mudzenda shows how.
 Klipdrift Gold Serenity 
Glass: Tall
Method: Shake and strain
Ingredients
50mls Orange juice
25mls vermouth Bianco
10mls Lemon juice
15mls Triple Sec Orange liqueur
25mls Klipdrift Gold
2 dashes Fynbos Bitters
WIN:
Klipdrift Gold and SLM are giving away TWO LIMITED EDITIONS each.
To enter and win, complete the following:
* Klipdrift has a rich history dating back more than…?
* Name the barman who creates that golden touch?
Send answers, name and contacts to info@sowetolifemag.co.za or Sydney@sowetolifemag.co.za, on or before March 29 2018.
Ts & Cs do apply! No under 18s must enter this competition.