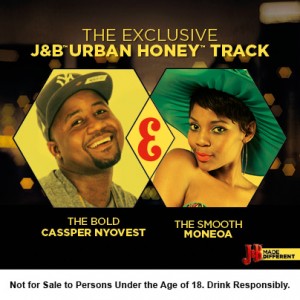 To celebrate, and further prove their point, J&B™ Urban Honey challenged Cassper Nyovest and Moneoa to combine their unique talents to create something out of the ordinary and made for the mix.
The result? Monate Fela a collaboration that'll get you on your way up! Here's what it sounds like: https://soundcloud.com/j-b-scotch-south-africa For a free download of the entire hot new track, all you have to do is buy a bottle of J&B™ Urban Honey, dial *120*1342#, punch in the unique barcode on the bottle and download the track directly onto your phone.
Oh yes, now you're on your way up – as the lyrics to Monate Fela will tell you! Two lucky readers stand a chance to win J&B™ URBAN HONEY Hampers each worth R360.00.
Simply answer this easy question and you could win:
What is the name of the song that Cassper Nyovest and Moneoa worked on together for J&B™ Urban Honey?
To win send name, contacts and answer to: info@sowetolifemag.co.za or sydney@sowetolifemag.co.za on or before July 13 2015.
Ts & Cs do apply.