The Passenger Rail Agency of South Africa (Prasa) has described as unsubstantiated, allegations that it had imported R600 million worth of diesel locomotives with heights that could damage overheard electrical cables.
Prasa chief executive Lucky Montana came out guns blazing at a media briefing in Hatfield on Monday, reacting to an article published in an Afrikaans newspaper on Sunday.
The Rapport article claimed that 13 of the 70 Afro4000 locomotives Prasa had procured from Europe had a roof height of 4 264mm, suggesting that the maximum height for diesel locomotives may not exceed 3 965mm.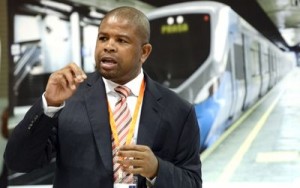 Montana dismissed the claims as "devoid of the truth". He stressed that the locomotives complied with the applicable Transnet freight rail electrical safety instructions signed by both Prasa and Transnet.
He said that the railway safety regulator was the final arbiter and had issued a testing and commissioning permit to demonstrate that the agency had complied with the engineering standard requirements.
Montana revealed that an additional seven locomotives would be delivered to Prasa in a month's time.
"In terms of the safety standard, the regulator was satisfied that the locomotives met the requirements," he said.
Montana denied suggestions that the purchase of the locomotives was one of the country's largest tender blunders. He said the locomotives were being tested according to the engineering requirement that "we run them for 3 000 free miles".
This was a normal engineering practice. "They are not yet ready for commercial use," he said.
A video-clip was played for journalists to view the locomotive passing under a bridge in Cape Town unhampered.
Chief executive for Prasa Mosengwa Mofi said: "The instruction specifies that the normal height between rail and electrical wire for a 3kv and 25kv network is 5.0m and the minimum is 4.5m. The safety instruction allows for a tolerance of +150mm between the roof of the locomotive and the electrical contact wire. The Afro4000 locomotive's height is 4.1m."
It had been claimed that the new locomotives exceeded the height restrictions for diesel locomotives on long distance lines, according to an anonymous railway engineer.
Prasa engineer Dr Daniel Mthimkhulu said: "It is expected that at around August the trains would be deployed for commercial purposes…"
According to Mthimkhulu, Prasa commissioned the University of Stellenbosch which confirmed that the Afro4000 would be able to pass safely under the minimum contact wire height of 4.5m.
Meanwhile, Mofokeng said this morning on Kaya fm's breakfast show with Bob that, such massive contracts solicit issues from other parties with agendas.
"I tell you, we are compliant and beyond that its pure agenda. We're ready to welcome more locomotives in August," he pointed out strongly.
As for Rapport he said he was meeting with the Editor for clarify and possible retraction of the story.