The return of one of the worlds' top selling movies Ghostbusters, stands to hit the tills running once again!
Yes, you might also add that one of South Africa's well read daily newspaper should be plea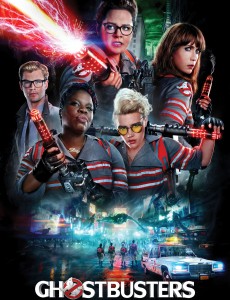 sed with the return of the Ghostbusters, because it reports on such stuff, stru!
Its' fun and 'rebooted' with a cast of hilarious new female characters as lead.
Thirty years after the beloved original franchise took the world by storm, comes fresh take to the supernatural comedy, joined by some of the funniest actors.
In the movie, two authors, Erin Gilbert and Abby Yates, co-write a book suggesting that ghosts are real.
Years later, after Gilbert is laughed out of a prestigious teaching position at a university, she forms the 'Ghostbusters' with her co-author, a nuclear engineer and a subway worker in order to save the world when ghosts invade Manhattan to stop a powerful demon named Rowan.
It features Melissa McCarthy, Kristen Wiig, Kate McKinnon, Leslie Jones and Chris Hemsworth.
The film releases in Ster-Kinekor cinemas countrywide on Friday, July 29, for two weeks, according to publicist OgilvyPR SA.
Ghostbusters carries a PG classification, and the running time is 1hr 56mins.  Its a family movie after all.
The film is produced by Dan Aykroyd and directed Paul Feig.
Ghostbusters is best screened in IMAX 3D, as we experienced at the recent media preview.
Oh, check out that daily newspaper for yourself; before the Ghost gets the Ghost out of you!