SOUTH AFRICAN chart-buster Nasty C in partnership with US rapper A$AP Ferg, will headline the Capsule Festival in mzansi, the first of its kind on our shores.
Already the September scheduled event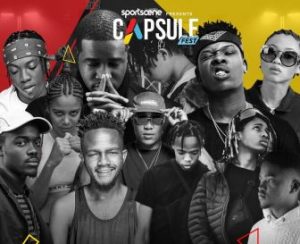 has tickets selling fast like our local icon atchaar!
It happens on September 16 2017 at Mary Fitzgerald Square, downtown Jozi.
According to the fest organizers 6th Ave Group –the show is premised on young South African talent, amongst others.
Other budding artists/rappers feature Joburg based artists 2Lee Stark, J Molley, Una Rams, Frank Casino and Patrickxxlee.
Local DJ's Uncle Partytime, Chuck Tailored and Vato Kayde will headline alongside Cape Town locals Youngsta CPT, Pascoe, Uncool Luke and Aux Gawd.
Pietermaritzburg's DJ Joey Drumz also joins the lineup that also boasts the likes of award winner rapper Kwesta, DJ's Milkshake, Loyd, Capital and Twins on Decks.
"With street culture scene being this big in SA right now, focus on young talent is just a natural way of supporting the growth.
Since Capsule Fest is all about the culture and purely investing in it, the environment is set up to be safe and family friendly with young people playing a huge part in the festival", says organiser Nick Kaoma.
He adds "The curated lineup is a collection of SA's finest young artists and DJ's from across the country with different offerings for the various markets attending the festival".
Converse SA Public Relations Company confirmed they're not part of the fest as previously mentioned, according to Livy Seboko.
Other activities for the day features charity celebrity basketball tournament, skate park, brand pop-up stores, art installations, customizing booths, beer garden, gaming area, VIP deck and food village.
Tickets currently available at Computicket outlets or can be bought online Computicket.com