ITS WORLD Mandela Day on July 18.
For South Africans it's a bitter pill to swallow following the death of
former first State President Nelson Rolihlahla Mandela's daughter Zindzi,
who was buried on Friday.
But as the saying goes- the show has to go on- the International Mandela
Day is in remembrance of Mandela.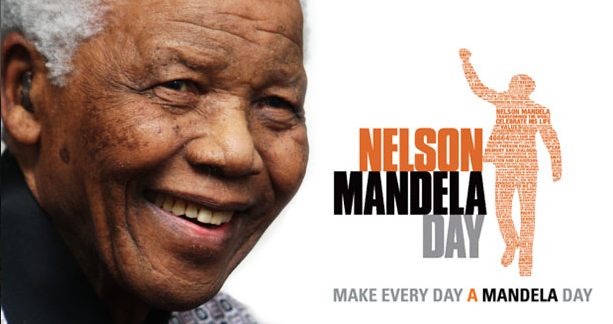 World-over everyone, including organisations will do their respective works in honour of Madiba.
Mandela, whose birthday is observed as the International Mandela Day every
year on 18 July was one of the biggest advocates of reading. A voracious
reader, he once remarked that one of the things that made him long to be
back in prison, was that he had so little opportunity for quiet reflection,
thinking and reading after his release.
One of his biggest pain points was the fact that younger people did not
read enough. He said, "unless we can find imaginative ways of addressing
this reality, future generations are in the danger of losing their
history." (Nelson Mandela By Himself: The Authorised Book of Quotations",
p.326)
The South African Book Development Council which has been running the
public engagement campaign National Book Week for the past decade believes
that reading for leisure not only improves our lives but also our ability
to be responsible citizens.
Held during the first week in September every year, NBW is solely dedicated
to encouraging leisure reading and promoting the importance of books. It is
a joint initiative of the South African Book Development Council (SABDC)
and The Department of Sport, Arts and Culture.
"Books play a powerful role in shaping young minds and attitudes. Our focus
remains on promoting leisure reading as a form of escapism and not
necessarily a test of intelligence," says Elitha van der Sandt, CEO, South
African Book Development Council.
"The pandemic has been equally hard on children; besides the health scare,
many probably became petrified watching and listening to television and
radio with parents who have been trying to make sense of what was happening
around them since the lockdown. It is one of the reasons why we introduced
the online storytelling event, Books Beyond Words. Stories are a good
distraction as they draw us in. Combine that with some of the best
storytellers in the country, and you have curious minds building their own
world – safer, friendlier and fun."
NBW has been inviting storytellers every weekend since the lockdown began
in March, for a live event to tell children an interesting story, including
from their own books.
This week brings back vocalist, dancer, presenter and actress Raquel Munn
who will narrate The Milliner, a story in English while radio host Dina
Christiaan will recount an Afrikaans story titled *Die Leeu en die Jakkals*.
Join us again this Saturday 18 July 2020 at 11:00am on NBW's Facebook page.
Tell us your favourite Mandela quote or moment so we can keep the legacy of
Madiba alive through conversations and of course, recommitting our families
to reading.
Meanwhile, South African NGO Imbumba Foundation, the pioneers of the
annual #Trek4Mandela Mount Kilimanjaro expedition will launch "67 Pledges
for Mandela Day" on the 18th of July 2020.
The foundation, which has been a custodian for Mandela Day for the past ten
years, has identified three key areas of need in the current climate which
they wish to address through three of their latest initiatives involving
Menstrual Hygiene, Education and Food Security. The Foundation calls for
all South Africans to support its mission to intensify its covid-19
response drive.
67 000 Girls is an extension of the already existing #Caring4Girls program
which seeks to restore the dignity of young girls by providing them with
sanitary ware and related products as well as menstrual hygiene education.
The aim is to reach 67 000+ girls who have previously not benefited from
the #caring4Girls program. With a contribution of as little as R10.00,
through purchasing a pack of sanitary towels, (at Dischem Pharmacies) one
will be donating to #caring4girls through the *#MillionComforts*
campaign. Respective
brands will match each pack purchased.
27 000 Matriculants (3000 each province) will be assisted with career
guidance, university applications, NSFAS and bursary applications for 2021
academic year.
Through Yethu Scholars, 20 young people will be employed
for six months to help enable the Class of 2020 and alleviate some of the
adverse effects that covid-19 has had on school going children, in
particular, those who are in their exit year.
As an additional aid to the education plight, the foundation has partnered
with the Thuli Madonsela Foundation, to provide a minimum of 67 000 GIG of
Data (through the Data Inclusivity Bank) to tackle the issue of access to
data and related resources. Data will be made available to disadvantaged
Matriculants, for access to the relevant online learning material and
online catch-up programs.
All three programs will run simultaneously from July to December 2020.
CEO of Imbumba Foundation, Richard Mabaso says "South Africans are urged
to remember the values of the late Nelson Mandela and play their part in
the fight against inequality.
Our programs are targeted at those who are disenfranchised. Covid-19 has
put an enormous burden on the shoulders of those who had already been
struggling and as civil society, our work gets harder, but the hope of our
communities is in all our hands. We all have a significant role to play".
For more information and to direct enquiries, contact Clive Maluleka, Media
and Partnerships on clive@imbumbafoundation.org or contact number +27 677
001 435 public donations toward the cause can be made to
https://www.givengain.com/cc/caring4girls