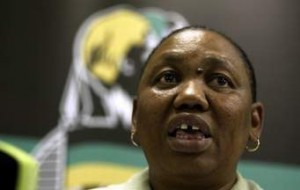 At least 3 000 delegates, with 2 750 of them being voting delegates, are expected to attend the 12th national conference.
The conference, themed "Radical Transformation of Women's Socio-Economic Rights" was supposed to take place two years ago but was postponed several times due to infighting.
The league has had to deal with factionalism and disgruntled members in some provinces which led to delays in holding the national conference.
Minister of Social Development Bathabile Dlamini would contest the ANCWL president position, presently held by Basic Education Minister Angie Motshekga. At least 45 women would also be elected to the national executive committee.
The league has come under fire in recent years for not advancing a woman presidential candidate for the ANC who could ultimately become president of the republic.
Analysts have questioned whether the league had become irrelevant, especially to young women.
Motshekga said her organisation had come a long way, and would remain at the forefront of women's movement in SA through policy.
"The national is expected to deliberate on the conditions facing South African women in the 21 years since democracy, and developing policies that will change the lives of our people for the better; especially women. in South Africa," she said in a statement released before the start of the conference.
The conference will end on Saturday.