Mamelodi Sundowns face Zamalek in the CAF champions League final at Lucas Moripe Stadium on Saturday evening, their first feature in the competition.
Being a democratic State, all South Africans have been urged to rally behind our boys as they will not be representing the club; but the entire country.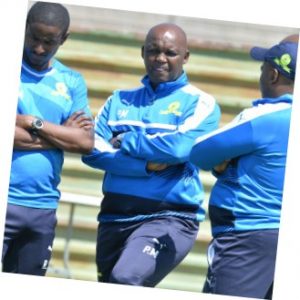 For the uninitiated, Downs began their journey to contest the CAF champ league following the introduction of head coach Pitso "Jingles" Mosimane in 2012.
Interestingly, Mosimane told Sowetanlive he began with the vision by taking the club to other African States for training, for mental strength and psychological preparedness because that would stand the team in good stead.
And now the blunt coach is reaping the rewards.
"Where have all been my pre-season trainings? Zimbabwe, Zambia, Ghana, everywhere and why? I needed to be in those dressing rooms, play on those pitches, play against those referees and know how many hours you spend on transit, so that when we go for the Champions League, we have done our spade work," Mosimane said this week.
"There is no surprise in reaching the final, this thing has been going according to plan," he said.
It would be unfair to single out players but if, truth be told, the chairman and mining mogul Patrice Motsepe should be praised for affording "Jingles" and his technical team the support they needed when the tough was going.
SAFA president Danny Jordaan says Downs' are on the brink of greatness heading into finals.
The victor will claim the biggest prize in African club football and also represent the continent at the FIFA Club World Cup, taking place in Tokyo, Japan from December 8-18.
"The draw for the FIFA Club World Cup has already been conducted and if Sundowns win the two legs against Zamalek, they will meet New Zealand's Auckland City and next the champions of Japan in the FIFA Club World Cup," said Jordaan.
"The second match would potentially pit Sundowns against Athletico Nacional of Colombia, assuming they win their opening games. If all goes well, Sundowns can then easily end up playing the winner of Club America (Mexico) and Real Madrid; a mouth-watering prospect.
"You obviously stand on the eve of greatness for South African football. We wish you all the best on this incredible journey.
"Congratulations to the president, Mr Patrice Motsepe, the entire administration and technical staff of Sundowns," concluded, Jordaan who also praised Amajimbos for reaching the final of the inaugural BRICS U-17 football tournament in Goa, India.
Orlando Pirates are the only South African side to ever win the Champions League, achieving the feat in 1995.
Who knows the world's fastest athlete Usain Bolt might pop in at the game?
The game begins from 3pm.
Tickets are still on sale.
Halala Sundawaana and thank you for flying the SA flag high.
The second leg is in Cairo next Sunday.