Three petrol bombs were found on campus as the University of the Witwatersrand prepared to continue with academic activities on Wednesday.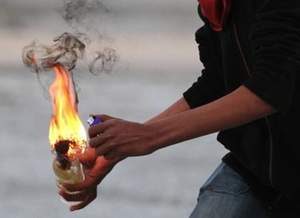 Student newspaper IG: WitsVuvuzela ?@WitsVuvuzela tweeted: "3 #petrolbombs found in a backpack on @WitsUniversity campus while two were found outside #JohnMoffatt building' according to @shirona37."
Wits spokesperson Shirona Patel confirmed the discovery of the bombs on the West Campus.
The John Moffat Building had also been targeted on Tuesday' when a fire was started in the basement and its windows were smashed by protesting students. The fire was quickly extinguished.
On Wednesday' fires were reported to be burning at an entrance to the Tshwane University of Technology's West campus' while blazes were reported overnight on the University of KwaZulu-Natal's Pietermaritzburg campus and the Malherbe residence had to be evacuated' and the Information Centre at the Cape Peninsula University of Technology's Bellville campus was torched on Tuesday night.
In September' three petrol bombs were discovered at Wits when protests turned violent in the week after Higher Education Minister Blade Nzimande's announcement about over fee hikes for 2017. Student leaders at the time accused Wits management of planting them to discredit their protest.
At Wits on Tuesday' the FNB Building had to be evacuated after "a suspicious parcel was found"' but this' Wits said' turned out to be "a firecracker".
Despite this' Wits said: "We are reviewing camera footage to try to track down the person who left the package in the building."
Wits also reported "confrontations between police and students took place outside the Wartenweiler Library and the Great Hall during the lunch hour" and "water cannons' stun guns' rubber bullets and teargas" were used to disperse the crowd.