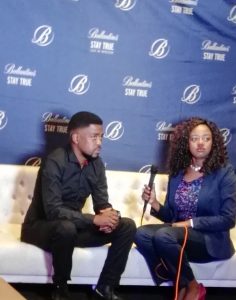 He was speaking during exclusive interview at the Ballantine's Beat of Africa Black Motion album launch, held recently at Turbine Hall, Jozi.
An entrepreneur, who owns his label, is a record owner and music producer.
He was encouraged to love music at the tender age of 8, since his family boasts well known music icons such as the Ngcukana brothers -Ezra and Fitzroy.
I guess its true, when the legend had it that 'when the buck has bitten there's no turning back'.
"Yes, the music veins run in the family," says the calm and collected aspiring entrepreneur.
Asked if he was involved in the Ballantine's Beat of Africa campaign with Black Motion, he says NO, gleefully.
"Unfortunately not because apart from music, I also run a film and animation production in Cape Town that takes a lot of my time. But I'd love to work with them since I have been working with Ballantine's for over two years on events and Djeeying."
He's ambition is to encourage kids to study and become independent and heroes in their own communities and the only way to do that, is by establishing a music school in Langa in no distant future.
"I would love to teach them that there's more to being a musician or an artist. There's future behind the scenes such as music compiler, producer, promoter, etc. That's what I wanna drum in their heads," says DJ Fosta born Thulani Headman, whose mother is a MoSotho and father a Xhosa.
He was part of the line-up that featured Black Motion, with special guests Jazzuelle, Trancemicsoul and DJ Leighton Moody.
The album launch formed part of the six-month campaign that includes tracks from countries such as Cameroon, Angola, Mozambique, and Zambia and SA, obviously.
As for DJ Fosta, the African beat rages on!