DJ Tira will no feature in the massive line-up for the 2018 RedSquare DJ KnockOut Challenge.
This was confirmed by the organisers, following the steep rate the Gqom founder from Durban is asking. He was not available at the time of publishing for a comment.
But, the show goes on following a media launch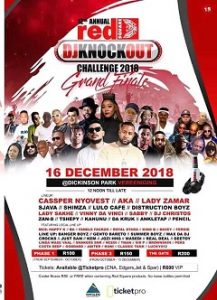 recently, were the line-up and details for this years' campaign has been elevated with a whopping R130 000 winner take all. Be squared or else…?
For this year's edition, top three winners will be presented with a chance to formally improve their technical and or formal skills through all-expenses paid scholarships.
"The deserving winners will be at liberty to select a school or institution of higher learning of their choice, within South Africa, where they can enroll to upgrade their artistic skills and Halewood International will cover all the costs of study or training.
This offer will be extended to the RedSquare Dance competition which we stage during the first half of each year," says Victor Selaelo, Halewood Marketing manager.
Aspirant DJ's can pick up entry forms more than 70 outlets nationwide, and outlets will only accept a maximum of thirty participants per audition a day.
Online applications area still and close on 19 October midday.
The RedSquare DJ KnockOut Challenge, since its inception 12 years' ago is celebrated for producing house-holds in DJ Shimza from Tembisa, East Rand, whom many have saluted for having opened doors for others, including female DJs as well.
Contestants drawn from all corners of mzansi, will try and convince the judges who will be the last man/lady standing on the day, to bag the huge prize.
With the exception of Tira, a painstakingly line-up has been penciled featuring Omunye (Phez' Komunye) hit makers Destruction Boys; AKA, Black Motion, Cassper, Lady Zamar, Pencil (Pta), Sjava, Shimza, Lulo Café, Y-FM DJ's Sabby, Uncle Tap, Zan D and many more from the Vaal area.
Tshepi will also co-MC the event, that also features deep house and laid session led by seasoned and house exponents DJ's Christos, Vinni da Vinnci and Kanunu. The three are part of the judging panel.
Venue: Dickinson Park- Vereeniging.
Date: December 16, 2018
For more information on competition details visit: www.djknockoutchallenge.co.za
Tickets for the grand finale are on sale through Ticketpros, Jet, CNA, Edgars and Spar.
Early bird tickets are R100 from mid September until end of October and R150 thereafter. Tickets will be R200 at the gates on December 16, with cooler box charged at R50.
First phase: R100. Second Phase: R150 & VIP R600.