It debuted last week Friday at 8pm.
At the media launch the gorgeous and gym fanatic Kamini, says she has traveled ten cities world-wide and her next project is to visit New Zealand, Spain and other intriguing cities.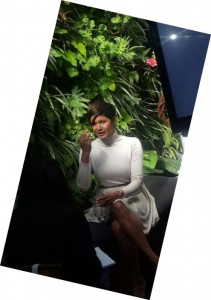 Various palettes and dishes were prepared by her team. Yes, I must confess some were not so edible, ahem!
"I love my job because it takes me to places I've only dreamt of," saysKamini.
She continues: "'Girl Eat World' shows and depicts the traveling, eating bizarre food (unnatural burger in Tokyo) and meeting thoughtful, open-minded people," she says.
If you love traveling and food, this is not to miss show.
The producers of the show is co-owned by musician Unathi Nkayi, Metro FM daily morning breakfast show co-host.